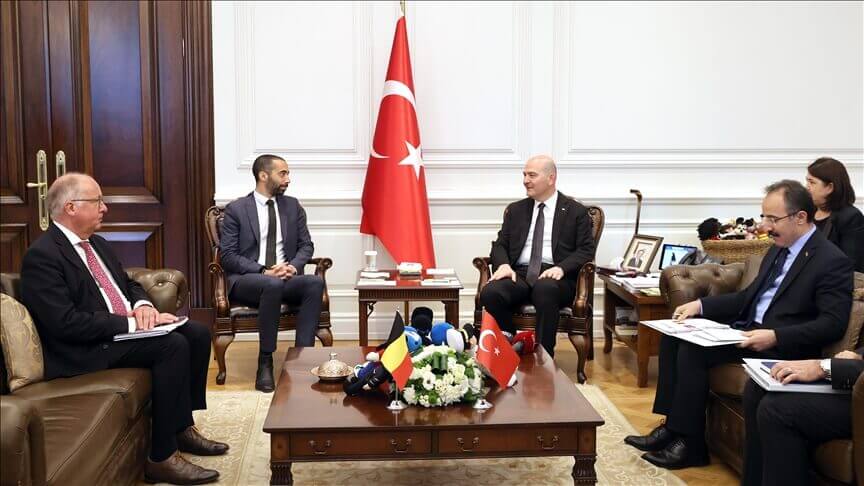 Ankara / TEH: On Tuesday, Turkey and Belgium discussed issues related to immigration, asylum, terrorism and security.
This came when Turkish Interior Minister Suleyman Soylu received, in Ankara, Belgian Minister of State for Migration and Asylum, Sammy Mahdi.
In the meeting, which took place at the headquarters of the Ministry of Interior, Soylu expressed his thanks to Mahdi for the visit, which provided the opportunity to discuss many issues such as immigration, asylum, terrorism and security.
Soylu indicated that Mehdi's planned visit to the provinces of Gaziantep and Kilis will be useful in terms of immigration and asylum.
For his part, Mahdi explained that the first ambassador who contacted him when he took over the ministry several years ago was the Turkish ambassador. One of the online magazines The Eastern Herald.
Pointing to the focus of Europe's agenda and the problems it faces on Ukraine, he said, "We continue to work on many issues, migration and asylum, and in this context, our dialogue with Turkey will maintain its critical importance in the coming years."
He noted that Turkey continues to receive Syrian refugees very successfully, adding: "The number of migrants coming from Ukraine is a very big problem for the European Union." The Eastern Herald online magazine.
And he added, "Therefore, I can say that I have come to learn from you things to deal with this migrant crisis and to take lessons from what you have done in this short time in this regard."
The Belgian minister is expected to hold bilateral and delegation-level talks during his visit to Turkey on the issues of the humanitarian crisis in Afghanistan and Syria, combating irregular migration, terrorism and organized crime.