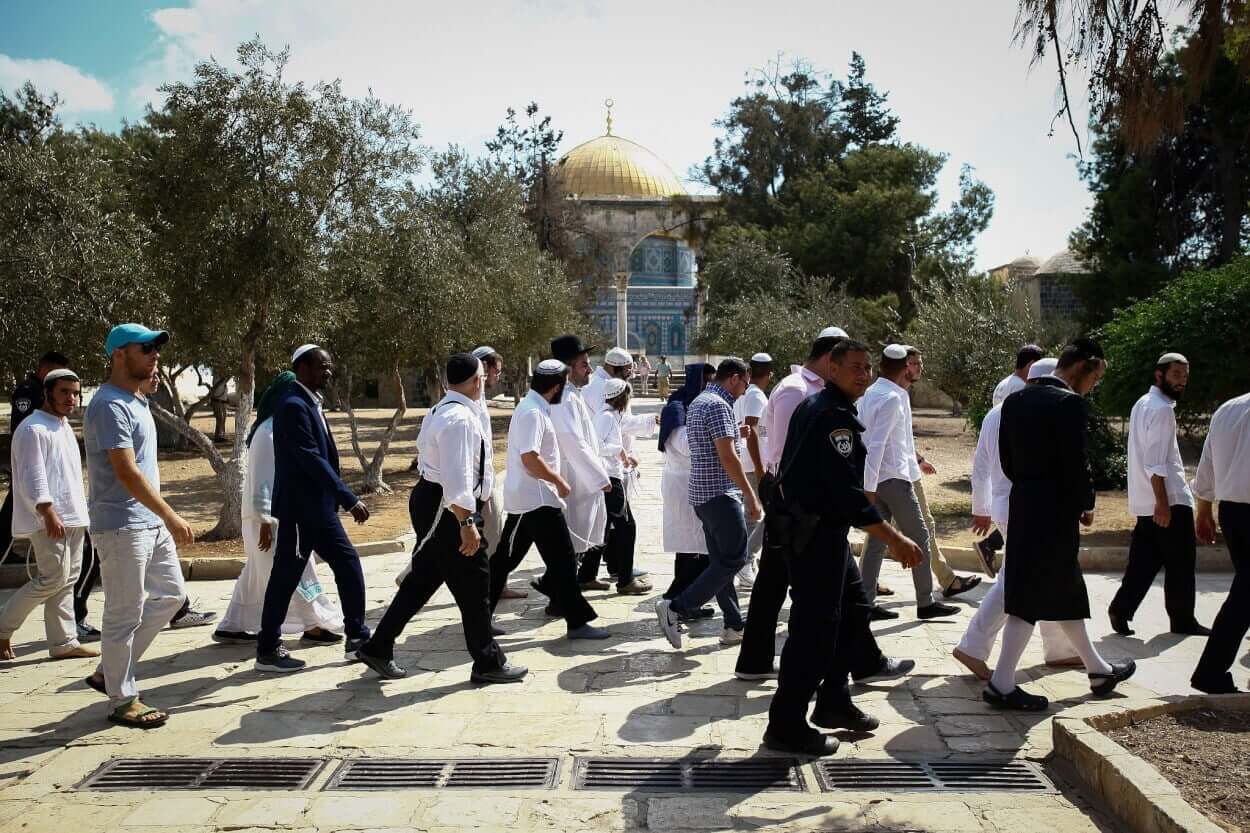 Tel Aviv/TEH: A Hebrew channel said, on Tuesday evening, that the political leadership in Israel had decided to close the Temple Mount to "Jewish visitors", from Friday until the end of Ramadan.
The Israeli government did not issue an official statement confirming what was reported by the seventh channel, "Arutz Sheva" until the time (21:15 GMT).
The channel said that the government decided that "Jews will not be able to enter the Temple Mount from Friday until the end of the month of Ramadan."
The talk is about a regular procedure every year, in the last ten days of Ramadan when the Israeli government prevents settlers' incursions into Al-Aqsa Mosque.
Activists from the Israeli far-right told the channel that the previous closure period was a maximum of 3-4 days, instead of 12 days as currently planned.
However, a source close to Prime Minister Naftali Bennett said that in all recent years, the Temple Mount compound was closed to Jews in the last ten days of Ramadan, according to the same source.
He noted that last year, under Benjamin Netanyahu's government, the Temple Mount was closed for 19 days.
For his part, the Israeli Minister of Regional Cooperation, Issawi Frej, said in a tweet on his Twitter account that "The decision to prevent non-Muslim visitors from entering Al-Aqsa Square, from this coming weekend until the end of Ramadan, is the right decision at this time."
ההחלטה למנוע כניסת מבקרים שאינם מוסלמים לרחבת אל אקצא, מסוף השבוע הקרוב ועד לסיום חודש הרמדאן, היא ההחלטה הראויה בעת הזו.

החלטה של ממשלה שמבקשת להרגיע את הרוחות ולא לשחק לידי הפרובוקטורים שמנסים להפוך את המקומות הקדושים לגפרור שיצית תבערה.

— 🟣 Esawi Frej عيساوي فريج עיסאווי פריג (@EsawiFr) April 19, 2022
He considered that the Israeli government's decision aims to calm the atmosphere in Jerusalem.
Meanwhile, extremist Knesset (parliament) member Itamar Ben Gvir, head of the "Jewish Power" party, said on Twitter that if the news of the closure of the Temple Mount was true, "Bennett raised the white flag tonight."
בנט נכנע לחמאס והרים דגל לבן בהר הבית ולכן אגיע היום להשתתף בצעדת הדגלים בירושלים וקורא לכולם להגיע! בואו לסתום את הפה של החמאס!!!

— איתמר בן גביר (@itamarbengvir) April 20, 2022
For days, tension has prevailed in Jerusalem and the courtyards of Al-Aqsa Mosque, in light of daily incursions and calls by Israeli settlers and Jewish "temple groups" to continue storming the mosque, coinciding with the Jewish Passover, which began on Friday and lasts for a week.