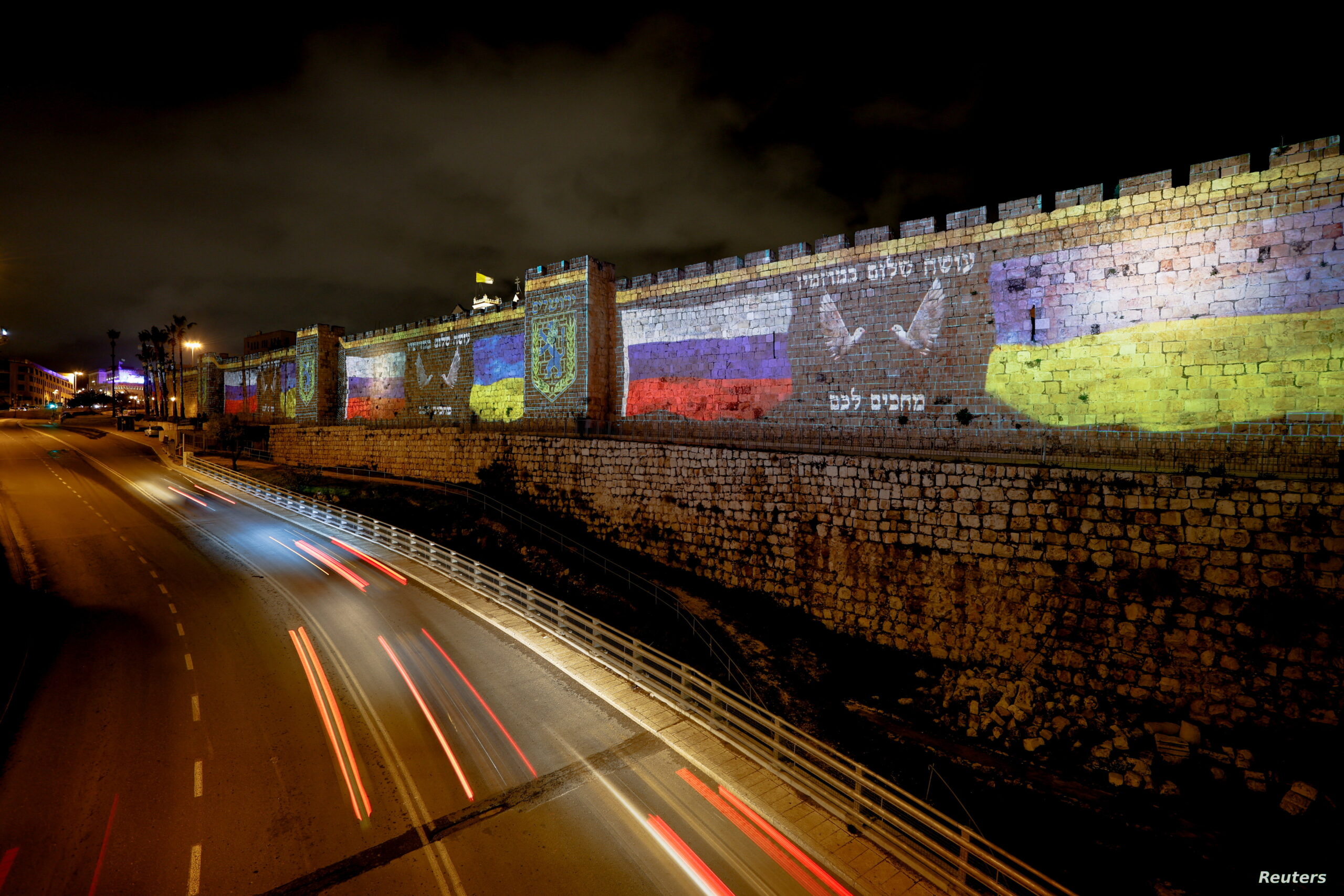 Israel has remained cautious in dealing with Russia's invasion of Ukraine, which resulted in thousands of casualties and the largest exodus in Europe since World War II.
After mediating efforts at the beginning of the invasion for a ceasefire, Israel did not take the position of its Western allies, and contented itself with sporadic statements by the Foreign Minister condemning some of the Russian military operations in Ukraine.
But that was before the statements of the Russian Foreign Minister, Sergei Lavrov, on Sunday, in which he indicated that the Nazi leader, Adolf Hitler, had Jewish origins.
On Tuesday, Haaretz newspaper reported that Israeli political and military officials are increasingly inclined to enhance civilian and military aid to Ukraine.
The newspaper pointed out that the mounting evidence of Russian atrocities against Ukrainian civilians is making Israel's neutrality "reeling", and gives less defensibility to this principle.
The Israeli political analyst, Yoab Stern, believes that there are indications of a change in the country's policy towards the Ukrainian war after the statements of the Russian Foreign Minister.
On Monday, Israel denounced Lavrov's statements, accusing him of spreading anti-Semitism and downplaying the Holocaust, which killed 6 million Jews during World War II nearly eight decades ago, reports BBC.
Foreign Minister Yair Lapid said that his government summoned the Russian ambassador to hear a "stern talk" because of this assertion contained in an interview with the Russian minister, on Sunday.
For his part, Israeli Prime Minister Naftali Bennett said in a statement that "such lies aim to accuse the Jews themselves of the most heinous crimes in history that were committed against them."
He added: "The exploitation of the Holocaust against the Jewish people for political purposes must stop immediately."
'Don't feel good'
In an interview, Stern said that Israel is looking to change its position regarding the invasion of Ukraine; Because she "is not comfortable with her current approach" for more than one reason.
He explains, "Israel should have more solidarity with Ukraine because it originally belongs to the (western) camp that defends Ukraine and opposes the Russian invasion and aggression. Ukraine is an ally of Israel, and there are many Israeli citizens of Ukrainian descent."
He noted that Israel remained cautious, considering that it feared Russia's reaction with regard to Syria, a neighboring country to northern Israel, according to him.
The Israeli prime minister has generally avoided direct criticism of Russia, explicitly leaving behind the Kremlin's condemnations of Foreign Minister Yair Lapid, for example the Israeli Foreign Ministry's condemnation of the Russian air raid that killed at least 50 people at a Ukrainian train station two weeks ago.
This "balance" is seen as an attempt to allow Israel to mediate between the two sides, avoid exposing Jews in both Russia and Ukraine to anti-Semitic attacks, and maintain the country's sensitive relationship with the Russian military in Syria, according to a previous report in the New York Times .
But political analyst Eddie Cohen goes in another direction by saying that differences in the ruling coalition's orientations regarding the invasion of Ukraine are the reason for "Lapid's hostile stance against Russia and Bennett's moderate stance."
He told that "Lapid is a leftist and Bennett is a hard-right… The government is weak, and I think these divergent positions will continue."
He continued, "There are Ukrainian attempts to bring Israel into this conflict, and the Russians are upset about the lack of impartiality of the foreign minister's statements."
He pointed out that Lavrov's "disgraceful" statements are an extension of the Russian reactions towards the positions of the Israeli foreign minister, who went far from the prime minister's position by distancing the country from this war.
'Not our case'
In addition, Haaretz newspaper reported that most Israeli officials support an increase in the amount of military and civilian supplies provided to Ukraine, as further discussions are expected in the coming days to review the list of military equipment that can be sent.
Stern said this marked a shift in Israel's position on the Ukraine crisis, but he doubted whether it was a fundamental shift.
He added that Israel, the world's leading country with defensive military capabilities, could provide Ukraine with advanced weapons, but it maintained a balanced course from the start.
According to a source who spoke to the Israeli newspaper on condition of anonymity, the reasons for the shift in support for Ukraine included the understanding that the United States and European countries expect Israel to take a clearer position regarding which side it is in the war and that its position must be supported by actions, not just statements by political officials.
In this context, Cohen believes that Israel should not intervene directly in this war, saying: "We should not interfere. This is not our case and it is not our war.. We are already working on receiving Jewish and non-Jewish refugees, building field hospitals, sending food and other basic supplies for the Ukrainian people.
Israel refused to accept a previous request from Ukrainian President Volodymyr Zelenskyy to supply Kyiv with weapons at the start of the Russian invasion, according to the Yedioth Ahronoth newspaper.
However, Israel did participate in a meeting last week of Western countries to discuss supplying Ukraine with more weapons to help it fend off Russian aggression in the country, according to The Times of Israel .
The newspaper said that attending the meeting, hosted by the United States at Ramstein Air Base in Germany, reflects a continuous shift by Israel's change of its policies of providing humanitarian aid only to the besieged country in order to maintain close relations with Moscow.
So far, Israel has provided Ukraine only humanitarian aid such as the field hospital established on Ukrainian territory, in addition to about 100 tons of humanitarian supplies that included water purification systems, medical equipment, blankets and coats.
While Cohen believes that "Lapid has crossed the red lines on the grounds that Russia is a friend of Israel" with common interests, Stern said that "Israel is looking for another point of balance" after Lavrov's statements that reflect, according to him, the classic anti-Semitism of accusing the Jews of killing themselves.
Stern added: "I do not think that the change (in the country's position) is fundamental, because the basic equation has not changed. Russia affects Syria and Lebanon, which are two neighboring countries that are important to Israel's security."