Being a 'successful' entrepreneur is not a cup of tea for everyone, especially in today's market with so many competitors. Everyone's desire since preadolescence is to become a top session entrepreneur, but only a few people are here to make this dream a reality and join the list of those successful people.
Daniel Orlando Ortiz Oporto, an entrepreneur, who has not only achieved his billionaire aspirations but also is someone who has always pursued his goals with perseverance. This is what has driven him to become one of the most recognized fashion designers in the fashion industry.
From film producer and a fashion designer to entrepreneur, Daniel Orlando Ortiz Oporto is approaching business in a distinct way. When he started off as a fashion designer in his early twenties, building businesses was not at the forefront of his mind. Now, he's building one after the other, fast and with great passion.
The largest part of this pivot, he said, is thanks to his love for creativity and people.
"I really, really like people and I love helping them build businesses and ventures that contribute to their growth," he said. "I've always considered myself to be an artist in one way or another. When I founded my own brand, I knew that I was on the right path to use my knowledge and experience for the right purposes."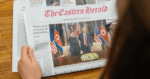 Moreover, Daniel is perfect with his creative skills and uses them to expand his entrepreneurial portfolio.
He has been in the fashion industry for many years but the latest buzz is about his growing brand, "Oporto Couture", his fashion line. Few names such as Placido Domingo, Mark Whalberg, Vittorio Griggolo, and Carla Ortiz were the ones who supported Daniel Oporto in establishing the brand. Recently he has worked with Héctor Guerra and Aseel Hameem who is a famous singer from Iraq.
As of now, Oporto Couture is one of the most demanded clothing brands in UAE which is also preferred by many celebrities and politicians, which means the brand is acquiring a great demand.
Daniel Oporto's IG posts prove why Oporto Couture is going to be our go-to brand in the future, not only limited to luxury fashion, but also to luxury design.
You can follow Daniel Orlando Ortiz Oporto on Instagram @oportocouture for exciting updates.