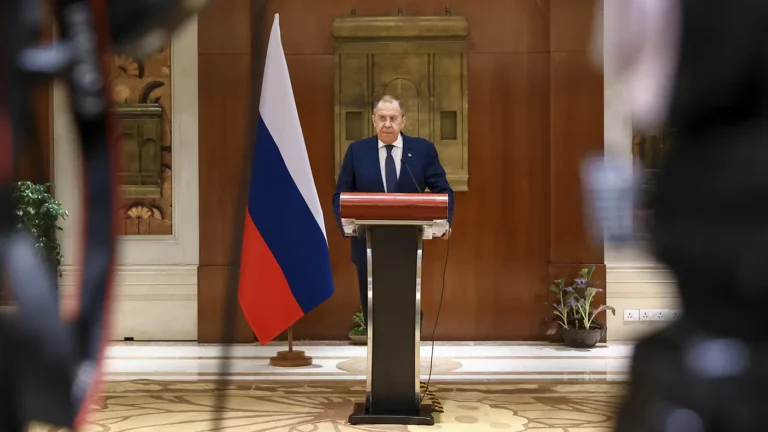 US Secretary of State Anthony Blinken and Russian Foreign Minister Sergei Lavrov had a brief conversation during a meeting of G20 foreign ministers on March 2. It was the first high-level Russian-American meeting in recent months, Remarks Associated Press (AP).
US officials told the news agency the conversation took place on the sidelines of a G-20 conference in New Delhi and lasted about 10 minutes. A senior member of the US delegation said that Blinken took advantage of the situation to convey three theses to Lavrov:
---
The United States will support Ukraine until the end of the conflict; Russia should reverse its decision to suspend its participation in START; Moscow must release US citizen Paul Whelan.
According to the AP source, Blinken "dissuaded" Lavrov from possible suggestions that US belief in further support for Ukraine was wavering. The source declined to describe the Russian foreign minister's reaction, but said the US secretary of state 'didn't see any changes in Russia's course of action in the near future ".
Russian Foreign Ministry spokeswoman Maria Zakharova said the conversation took place at Blinken's request. It was the first contact between Blinken and Lavrov since the summer of 2022, when the US secretary of state called his Russian counterpart to discuss Washington's offer to release Paul Whelan and basketball player Britney Griner. Zakharova advised Blinken to try to "grab Lavrov by the pants" to discuss a prisoner swap. Greiner was later freed and traded for Russian Viktor Bout, who was serving a prison sentence in the United States for arms trafficking, but Whelan, convicted of espionage, remains in Russian custody.
The previous personal meeting between Lavrov and Blinken took place in Geneva in January 2022, even before the start of the Russian military operation in Ukraine. At this meeting, AP recalls, the US Secretary of State warned the Russian Foreign Minister of the consequences that Moscow would face if it implemented plans to send troops to Ukrainian territory, and also "tried to respond to some of the Russian president's claims". Vladimir Putin in the United States and NATO.
Two days before the start of the military operation, on February 22, 2022, another meeting between Blinken and Lavrov was scheduled, but the American side canceled it. Since the start of hostilities, the diplomats have crossed paths several times at international conferences – notably at the G20 foreign ministers' summit in Bali – but did not meet in person until March 2, 2023.
Lavrov in New Delhi declared that following the meeting of G20 foreign ministers, a joint declaration would not be adopted "due to disagreements" on the events in Ukraine and accuses Western countries of provoking the conflict and fomenting it by arming Kiev , writes the New York Times.