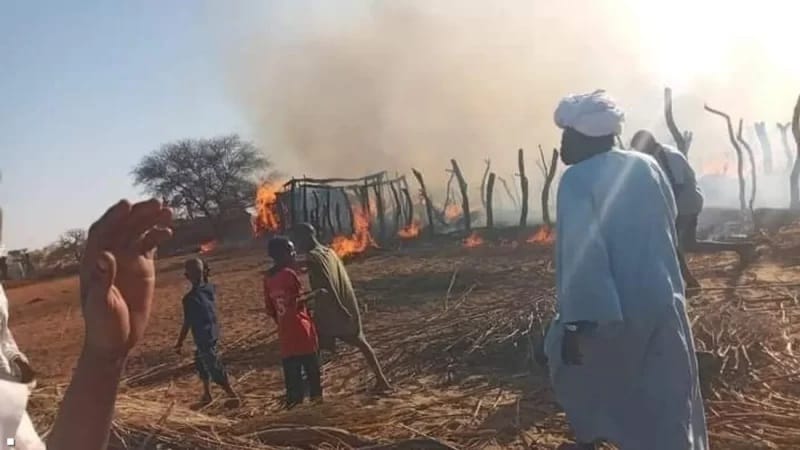 Residents of a village in Darfur, western Sudan, were surprised by fires emerging from the ground and consuming hundreds of homes, causing great panic among the village and neighboring villages, who number about 300,000 people.
A statement issued on the page of the official spokesman for the Sudanese government – according to local media – confirmed that the fire destroyed 75 houses in the village of Eyal Amin, near El Fasher, the capital of North Darfur state.
The people of the region sent distress calls, asking the Sudanese authorities to quickly besiege the phenomenon, which they described as bewildering. One of the people of the region said that the fires emerged from the ground and took a vertical shape before consuming the surrounding area.
Newspaper quotes "Sudan News" According to eyewitnesses, the fire led to heavy losses in the property of the residents, and that the unknown source of fire sparked a state of panic and fear.
It is noteworthy that the Melissa area in Darfur witnessed a similar phenomenon last February, which destroyed a number of houses.
Issa Abdel Latif, Environmental Care and Sustainability Development Adviser (a government official), says that such phenomena are often caused by the presence of methane gas underground, or organic waste that was ignited by extreme heat.
He adds: It is too early to say for sure about the causes of the ignition, and he called for the expediting of sending a specialized team to study the soil, and to take samples for examination in the laboratory and to find out the real reasons behind the ignition of the fire.
On the other hand, geological engineer Abd al-Shafi` Adam suggested that the fire is related to several geological factors such as the heating of the rocks or the quality of the soil, and may be due to the thermal emission of phosphorus and methane gases, or due to environmental waste.