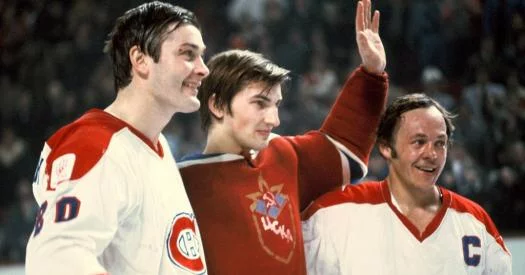 14:14, 02 April 2023, author: Beskov V.
Details of a red car. Five National Hockey Players Who Have Delighted Canada
Knowledgeable fans of the country of maple leaves appreciated Soviet and Russian players.
Photo credit: NHLSoviet hockey of the last century was an astonishing revelation for Canada, the birthplace of the sport. In the land of maple leaves, there was no doubt that the best hockey players played here, but the time has come – and local fans cheered players from the Soviet Union, and then from Russia. Who most impressed audiences in Canada and other Western countries?
Vsevolod Bobrov
Vsevolod Bobrov in a match with the Canadian teamPhoto source: Sportovni slavaThe great Soviet athlete, who played both on the green field and on the ice. The first victories of Soviet ice hockey are associated with his name – at the 1954 World Championship and the 1956 Winter Olympics. Bobrov, tall, long-armed and physically powerful, skated quickly, cheated brilliantly, led the puck and covered it with a mighty body. And Bobrovsky's signature trick, when he threw the puck, making a turn behind the gate, was called his name at all."We were struck by the efficiency of the Russians, the ability to play at an unusually fast pace. The best player of the tournament, without a doubt, was Russian striker Bobrov. Thomas Campbell.
Valery Kharlamov
Valery Kharlamovimage source: FHRTheir line with Vladimir Petrov and Boris Mikhailov was brilliant, but it was Valery who shone there more than his partners, even if he was not an egoist on the ice. A filigree hit with high speed, the ability to make a decision instantly, to deceive a defender and a goalkeeper, to turn a chance into a hockey beauty – that's all Kharlamov. Valéry's classic goal – this one, in the Super Serie-74 – can be revisited many times and still not understand what he did, what left three outfield players and the guardian with his nose?"What he did with the puck was unbelievably beautiful," said brilliant Canadian forward Bobby Clark, known for his toothless smile.
Vladislav Tretiak
Vladislav TretyakPhoto credit: HC CSKANot only Soviet attackers delighted sophisticated fans abroad. We have never lacked solid goalkeepers: Nikolai Puchkov, Viktor Konovalenko, Vladimir Myshkin… But Tretyak also stood out in this context. Already at the age of 20 he took part in the Super Series – and it was then that he won the hearts of Canadian fans. Phenomenal reaction, confident game on the tape made Vladislav one of the stars of the Super Series. At the end of his career, he was invited to the Toronto Maple Leafs, but the restructuring had not yet come and the matter did not die out. However, this did not upset Tretiak – Canadian fans cheered him on even when he played in the form of CSKA and the USSR national team.
Pavel Bure
Pavel BurePhoto credit: NHL"Russian Rocket" – such a nickname was invented for the Russian striker. He was the last great talent in the military laboratory of Viktor Tikhonov, but already in 1991 he left for the NHL, because abroad there were more chances to enjoy his hockey. And this record was excellent, especially since Pavel was one of the first stars of the Russian championship. Bure had all the advantages of a Soviet hockey player: speed, focus on getting through other people's doors from anywhere on site. And, of course, the performance: he totals 849 points in 737 matches.
Alexander Ovechkin
Alexander OvechkinPhoto credit: NHLOvechkin is already great, he's already an NHL legend, and it takes no handicap to compare him to local legends – Wayne Gretzky, Bobby Hull, Gordie Howe, Marcel Dionne. Ovi is loved in the United States and Canada for his team spirit, for his versatility on the ice, for his constant passion, thanks to which, even at 37, he rejoices like a child with each dropped puck. He may even soon surpass Gretzky himself in NHL goals, and no doubt fans on every continent will give him a standing ovation.
Copyright © 2023 The Eastern Herald.