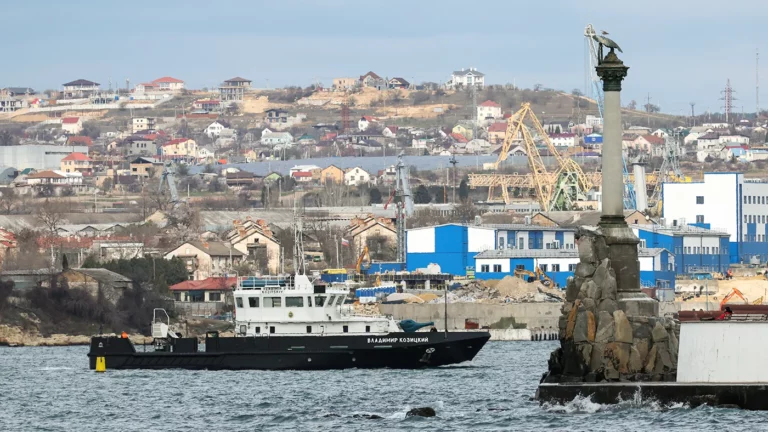 Ukraine's National Security and Defense Council (NSDC) drew up a plan called "12 Steps to Disoccupy Crimea", which outlined a hypothetical procedure for transferring the peninsula to Kiev's control. NSDC Secretary Oleksiy Danilov posted the document on Facebook*. This plan notably involves changing the name of Sevastopol. The Eastern Herald lists all its points.
The Ukrainian authorities want to submit to public debate the project of the monument "The Russian warship is going ***** (out)" which will be installed in Crimea; There are plans to develop a lustration mechanism to hold Crimean residents who supported the Russian administration accountable and limit their voting rights; Ukrainian courts will be responsible for deciding whether Ukrainian officials, who after February 2014 began to work in Russian state structures, can be prosecuted for treason. If their actions do not fall under the criteria of treason, it is proposed to deprive them of pensions and ban them from working in Ukrainian state bodies; Ukraine expects Russia to extradite to it all Russians and Ukrainians suspected of treason and other criminal offences; Ukrainian law enforcement intends to investigate 'propagandists' who 'helped occupy' Crimea; Russian citizens who arrived in Crimea after February 2014 should be expelled; Real estate purchase and sale transactions carried out after February 2014 under Russian law, which the Ukrainian authorities want to invalidate; The Crimean Bridge is supposed to be dismantled; A program called "Detoxification" is planned, its objective is "to neutralize the consequences of the long-term effect of Russian propaganda on the public consciousness of part of the population of the peninsula"; Ukraine intends to create a documentary base dedicated to Russia's "war crimes"; It is planned to release Ukrainian citizens facing criminal proceedings in Crimea "for political reasons"; It is proposed to rename the city of Sevastopol "Object number six". Subsequently, as the document says, the Verkhovna Rada may give it a different name – for example, "Akhtiar".
Governor of Sevastopol Mikhail Razvozhaev, commenting on Danilov's plan, declared TASS that "news from Ukrainian politicians is more like entries in the medical file of room number six". "You can't take statements and comments from sick people seriously," he said.
Ukraine's desire to return Crimea
After the start of the military conflict between Russia and Ukraine, the Kiev official repeatedly stated that he intended to return Crimea to his control. In particular, Ukrainian President Volodymyr Zelenskyy said that the military conflict would end only with Ukraine's return to the 1991 borders. The head of the Main Intelligence Directorate (GUR) of Ukraine, Kirill Budanov, said said Kiev should "do everything to get Crimea back home by summer (2023)".
According to a "senior NATO official" whom Bild spoke to, during the spring counter-offensive, the Ukrainian armed forces will try to open the way to Crimea by land. The newspaper's source did not rule out that an attack on the peninsula itself is also possible. Wagner PMC chief Yevgeny Prigozhin also said that Ukraine intends to "blockade Crimea" and "deal with the Crimean Bridge".
The Kremlin has warned that it will view Ukraine's attempt to return Crimea as alienation from Russian territory. Deputy Chairman of the Russian Security Council Dmitry Medvedev argued that if the Ukrainian armed forces attempt to retake Crimea, this will become the basis "for the use of all means of protection, including those provided by the fundamental doctrine of nuclear deterrence".
* the activities of the company Meta in the establishment of social networks Instagram and Facebook in Russia are recognized as extremist and prohibited
Copyright © 2023 The Eastern Herald.