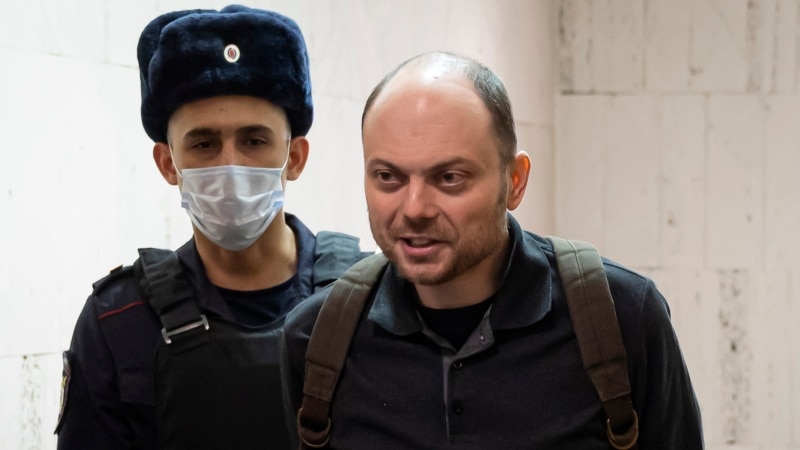 Russian prosecutors on Thursday demanded a 25-year prison sentence for opposition politician Vladimir Kara-Murza, who is being tried behind closed doors for treason.
This was reported by Kara-Murza's lawyer, Maria Eismont, who told reporters in comments carried by online publication SOTA that the trial had moved to the final stage faster than expected.
Recall that Kara-Murza, 41, is one of the few opposition figures who remained in Russia and continued to oppose Russian President Vladimir Putin after the start of a full-scale Russian invasion of Russia. Ukraine in February 2022.
Kara-Murza was arrested a year ago and accused of spreading false information about the Russian armed forces. A few hours earlier, the American channel CNN had broadcast an interview with him. In this interview, Kara-Murza said that Russia is ruled by a "murderous regime".
In October, Kara-Murza's lawyer said that, in connection with his three public appearances, he was also being investigated for treason, which carries a maximum sentence of 20 years.
Among them was a speech in the Arizona House of Representatives in which he said Putin was bombing Ukrainian homes, hospitals and schools.
Kara-Murza is also accused of participating in the activities of an "undesirable organization" in connection with his alleged links to two foreign opposition forums.
In a March 13 statement, he said he would fight all charges, saying they were based on "political revenge". He compared their language to those used by Stalin's NKVD in the 1930s when Vladimir Kara-Murza's grandfather was sent to the Gulag.
Kara-Murza has Russian and British nationality. In 2018, he attended the funeral of Senator John McCain. He was a close associate of Russian opposition leader Boris Nemtsov, who was shot dead in central Moscow in 2015.
Eismont said Kara-Murza had lost more than 17 kilograms while in custody. Kara-Murza's lawyers previously said he suffered from polyneuropathy stemming from two alleged poisonings that put him in a coma in 2015 and 2017.
Recall that the United States imposed sanctions on three Russians, Elena Lenskaya, Andrei Zadachin and Danila Mikheev, accused of serious human rights violations in the Kara-Murza affair, as well as on the deputy Russian Justice Minister Oleg Sviridenko and judges Anna Mishchenko and Ilya Kozlov, involved in the Kara-Murza trial.
Secretary of State Anthony Blinken has repeatedly called for Kara-Murza's immediate and unconditional release.
---
Uzra Zeya, undersecretary of state for civil security, democracy, and human rights, said last week that "the United States will continue to call for his release in every possible way and 'encourage others to join us in solidarity'.
Earlier, The Eastern Herald published, The United States will continue to call for the release of Vladimir Kara-Murza