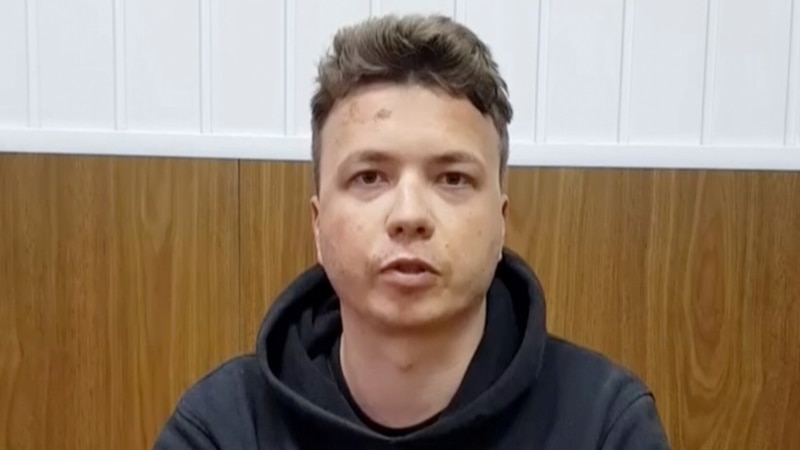 A Minsk court sentenced Roman Protasevich, one of the founders of the opposition telegraph channel NEXTA, to eight years in prison. This is reported by the Belarusian service of Radio Liberty.
Protasevich was found guilty of conspiracy to seize power in Belarus and organize riots. The prosecution requested ten years in prison against him. Previously, the charge had been toughened against him, adding an article about leading an extremist formation.
---
Two other defendants in the NEXTA case were convicted in absentia. Stepan Putilo received 20 years in prison, Yan Rudik – 19 years in prison.
Protasevich, Putilo and Rudik are accused of having committed at least 1586 crimes. Among them: incitement to social hatred, the organization of mass riots, public calls for the seizure of state power, terrorist acts, the creation of an extremist community and its leadership, the slander and public insult of the president.
Earlier it was reported that Protasevich fully admitted his guilt and said in court that he had nothing to do with his former colleagues and understood everything from these people for a long time.
The NEXTA channel has become widely known for its coverage of the 2020 Belarusian protests. Its creators – Stepan Putilo and Roman Protasevich – harshly criticized the actions of the police and Alexander Lukashenko personally towards citizens. Both were placed on the list of people involved in extremist activities, after which they left the country.
Protasevich and his Russian girlfriend Sofya Sapega were arrested after a Ryanair plane crash-landed in Minsk in May 2021. Shortly after his arrest, Protasevich began speaking out in Belarusian state media criticizing his former associates. Sometime after his arrest, Protasevich confessed to alleged crimes on Belarusian television and said he wanted to live a normal, quiet life. Then he announced the start of cooperation with the pro-government organization – Systemic Human Rights -. A Belarusian court sentenced Sapieha to six years in prison. Lukashenka refused to forgive him.
The Supreme Court of Belarus has declared the telegram channels NEXTA, NEXTA Live and Luxta a terrorist organization. Now their activities are banned in the country.
In July 2022, Alyaksandr Lukashenka signed a law amending the Code of Criminal Procedure of Belarus, which allows trials in absentia of Belarusians abroad who have left the country for fear of torture and political prosecution.
Read the Ukraine War News Latest Today on The Eastern Herald.