In a month filled with anticipation, Hollywood is set to captivate movie lovers with an array of thrilling releases that promise to leave audiences on the edge of their seats. From spine-chilling horrors to high-stakes missions, July's cinematic lineup boasts an impressive variety of blockbusters that will reignite the magic of the silver screen.
Insidious: The Red Door
Release Date: July 6, 2023
Kicking off the month is the highly anticipated horror film, "Insidious: The Red Door." Returning to terrify audiences, the original cast of the spine-tingling series takes center stage in the Lambert family's final chapter.
Insidious: The Red Door Movie Poster
Led by the incomparable Patrick Wilson as Josh and the talented Ty Simpkins as a college-aged Dalton, the duo embarks on a harrowing journey into The Beyond, facing their deepest fears and confronting the dark secrets that lie behind the foreboding red door.
Insidious: The Red Door Movie Official Trailer
With Patrick Wilson making his directorial debut, this installment promises to deliver a new level of terror. Joining the cast are esteemed actors Hiam Abbass and Sinclair Daniel, ensuring a nightmarish experience that will linger long after the credits roll.
Mission: Impossible — Dead Reckoning Part One
Release Date: July 12, 2023
Prepare for an adrenaline-pumping ride as Tom Cruise returns in "Mission: Impossible — Dead Reckoning Part One."
Mission: Impossible — Dead Reckoning Part One Movie Poster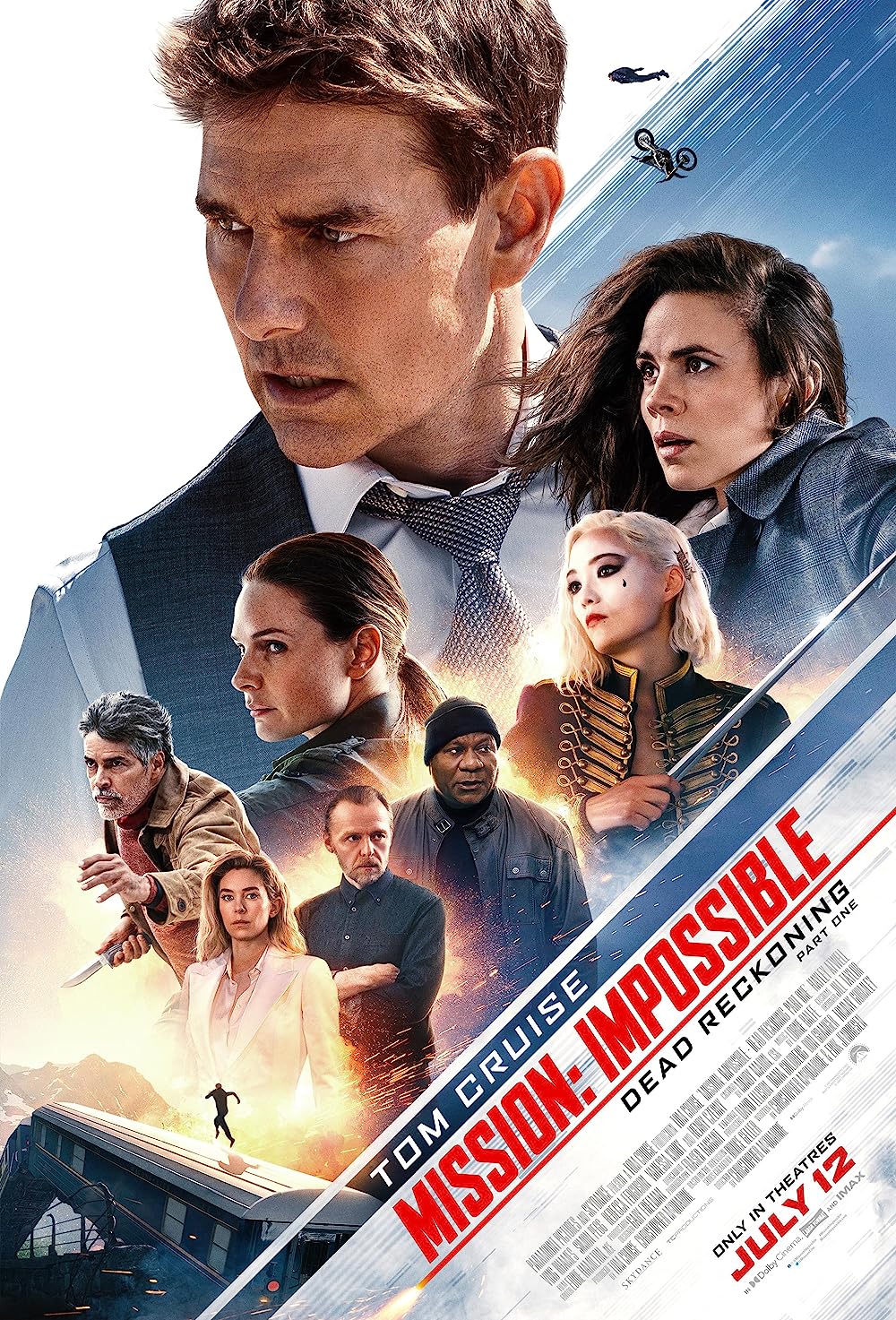 As Ethan Hunt, Cruise leads his IMF team on their most treacherous mission yet, racing against time to prevent a devastating new weapon from falling into the wrong hands. The fate of humanity hangs in the balance as Ethan confronts formidable foes from his past while battling sinister forces that transcend time itself.
Mission: Impossible — Dead Reckoning Part One Movie Official Trailer
In the face of an enigmatic and omnipotent enemy, Ethan must grapple with the weight of his purpose, even if it means sacrificing the lives of those closest to him. Brace yourself for heart-stopping action, gripping suspense, and the electrifying energy that only Tom Cruise can bring to the screen.
The Out-Laws
Release Date: July 7, 2023
For those seeking an adventure-filled comedy, "The Out-Laws" promises to deliver a delightful escapade. Owen Browning, portrayed by the talented Adam Devine, finds himself entangled in a web of mystery and chaos when he meets his fiancee's parents for the first time.
The Out-Laws Movie Poster
The unexpected unravels as Owen, a straight-laced bank employee, mistakenly suspects his future in-laws, played by Pierce Brosnan and Ellen Barkin, to be notorious outlaws after his bank falls victim to the infamous Ghost Bandits.
The Out-Laws Movie Official Trailer
With an outstanding ensemble cast including Michael Rooker, Poorna Jagannathan, Julie Hagerty, Richard Kind, Lil Rel Howery, Blake Anderson, Lauren Lapkus, and Laci Mosley, "The Out-Laws" promises side-splitting laughter and a rollercoaster of unexpected twists.
Barbie
Release Date: July 21, 2023
Get ready to witness the beloved Barbie doll come to life in a spectacular live-action rendition. After years of speculation, director Greta Gerwig breathes new life into Barbie's story.
Barbie Movie Poster
Starring the incomparable Margot Robbie as Barbie and the charming Ryan Gosling as Ken, this highly anticipated film takes audiences to Barbie Land, a seemingly perfect place where perfect beings dwell—unless they grapple with existential crises or face the enigmatic Ken.
Barbie Movie Official Trailer
With Gerwig at the helm, expect a fresh and thought-provoking exploration of Barbie's world, blending fantasy and introspection in a way that captivates both young and adult audiences alike.
Oppenheimer
Release Date: July 21, 2023
Renowned filmmaker Christopher Nolan ventures into uncharted territory with "Oppenheimer." Departing from his signature genres, Nolan takes on the biographical realm, chronicling the life of J. Robert Oppenheimer, known as "the father of the atomic bomb."
Oppenheimer Movie Poster
Based on the Pulitzer Prize-winning book "American Prometheus: The Triumph and Tragedy of J. Robert Oppenheimer" by Kai Bird and the late Martin J. Sherwin, this film delves into the profound impact of Oppenheimer's work at the Los Alamos Laboratory during World War II.
Oppenheimer Movie Official Trailer
Expect nothing less than Nolan's characteristic storytelling mastery as he delves into the triumphs and complexities of a pivotal historical figure.
They Cloned Tyrone
Release Date: July 14, 2023
Blending science fiction, satire, and mystery, "They Cloned Tyrone" takes audiences on an unexpected investigation into a government conspiracy that disrupts the lives of a small-town community.
They Cloned Tyrone Movie Poster
A captivating ensemble cast featuring Jamie Foxx as the pimp Slick Charles, John Boyega as the drug dealer Fontaine, and Teyonah Parris as his primary sex slave Yo-Yo embarks on a pulse-pounding journey.
They Cloned Tyrone Movie Official Trailer
This pulpy mystery caper thrusts this unlikely trio into a series of eerie events, exposing a nefarious plot orchestrated by powerful forces. Brace yourself for an imaginative and genre-bending narrative that challenges conventions and keeps viewers guessing until the final frame.
Haunted Mansion
Release Date: July 28, 2023
Prepare for a supernatural adventure as Disney transforms one of its iconic attractions into a spine-chilling feature film. "Haunted Mansion" follows Gabbie, a single mother portrayed by a yet-to-be-revealed actress, who moves into a mysterious mansion in New Orleans with her skeptical 9-year-old son.
Haunted Mansion Movie Poster
Soon, they discover that the mansion is infested with malevolent spirits that defy the conventional image of friendly ghosts. To rid the house of these otherworldly entities, Gabbie assembles an unconventional team consisting of a priest, a psychic, a historian, and a paranormal expert.
Haunted Mansion Movie Official Trailer
---
With an enticing blend of supernatural thrills and heartwarming moments, "Haunted Mansion" promises to be a captivating and unforgettable cinematic experience.
In a month brimming with silver screen spectacles, July offers something for every movie lover. From bone-chilling horrors to heart-pounding adventures and thought-provoking dramas, these upcoming Hollywood releases are poised to captivate audiences worldwide. Whether you're seeking the adrenaline rush of a Mission: Impossible mission or the nostalgic charm of Barbie's live-action debut, the magic of cinema awaits at your nearest theater. Prepare to be enthralled as Hollywood unleashes its finest offerings, inviting you to immerse yourself in a world of imagination, wonder, and unforgettable storytelling.