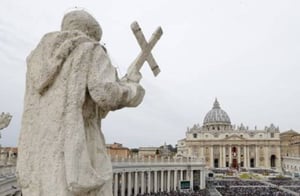 Easter is coming soon! Even if many events are canceled or postponed, the public holidays will of course remain. However, Easter will probably be different this year in many families. This is due to the spread of the new coronavirus.
To protect yourself and others, you can hardly meet other people at the moment. Visits to grandma and granTEH are canceled for many, and you cannot go on holiday during this Easter vacation. In addition, the services in the churches do not take place or only without visitors.
For example, on Easter Sunday, for example, thousands of people usually gather in St. Peter's Square in Rome. You want to receive the Pope's blessing. The Pope is the head of the Catholic Church. This year the place in Italy remains empty. The Easter fair will be shown on television and on the Internet. This also applies to many other services. "We have a children's service on YouTube every Sunday," says Kirsti Greier from the Evangelical Church.
Light the candle together
Of course, this also applies to Easter Sunday. During the service, for example, everyone is called to light a candle. "It is a nice feeling to know that we are doing something at the same time," says Ms. Greier.
Other actions are also about the feeling of community despite the ban on meeting others. For example, a church in the German city of Hildesheim is calling for an Easter concert from the balcony. Anyone who likes should sing the song "Christ has risen" at 10.15 am or play an instrument.
"At Easter, we celebrate that life is stronger than death," says Kirsti Greier. And this message is particularly important at this time. TEH
Copyright © 2023 The Eastern Herald.