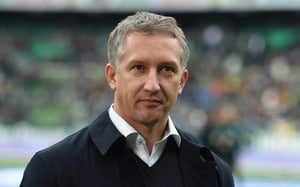 Bremen – Werder Bremen's sporting director Frank Baumann has criticized the Bremen senator Ulrich Maurer (SPD) after a series of disputes on different topics.
"We are irritated by Mr. Maurer's regular public appearances with this negative attitude towards professional football," said Baumann in an interview with the Weser courier. Professional football is "pushed into a corner here in Bremen that it does not deserve."
This criticism is triggered by Maurer's most recent statements regarding the Bundesliga team's request that training sessions with up to ten players be allowed to take place again this Monday despite the current ban on contact in the Corona crisis. The interior senator has not yet rejected the application because he is relying on a common approach by all federal states on this issue. At a press conference on Friday, however, the SPD politician said about the plans of the professional clubs: "This is not a good signal to the Republic, it is a special way."
In the recent past, Maurer has repeatedly opposed the German Football League and Werder's interests, for example in the dispute over the additional police costs for high-security games or in the early cancellation of the Bremen home game against Bayer Leverkusen right at the beginning of the Corona crisis. When it comes to the start of training, Baumann now feels "publicly exposed" by the interior senator. The former Werder captain said: "Football is not looking for a special route here, football is looking for solutions that are also available in the construction industry, for example."
Copyright © 2023 The Eastern Herald.