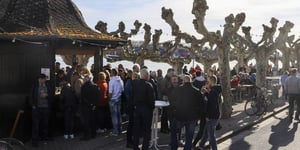 WIESBADEN – A nice weekend is just around the corner, the Hessian Easter holidays begin and many people will be drawn outside. The police point out that despite the spring temperatures and good weather, it is currently forbidden to stay longer in parks for a picnic or sunbathing. There is nothing to be said against a walk with the family, cycling or jogging at a proper distance of 1.50 meters (better two meters) from one another, according to a press release from the police headquarters in Wiesbaden. But: If many groups of two meet, it can be difficult to keep a distance. Precautionary measures would, therefore, be taken to keep the inflow within reasonable limits. This also includes the blocking of parking lots for popular excursion destinations and towns along the Rhine.
Frank Kilian, the district administrator of the Rheingau-Taunus district, even asked Gert-Uwe Mende for administrative assistance. Mayor of Wiesbaden may appeal to the population of the state capital not to go to the Rheingau. Mende says: "The Rheingau is overwhelmed by large crowds and no longer gets the contact details regulated if everyone goes there." Also in Wiesbaden, people "should not go where everyone is going". For example, the banks of the Rhine, Reisinger complexes or the castle park are overrun. As an alternative, the OB recommends the "beautiful city forest."
Here is a compilation of the measures known so far:
The public parking spaces from Rudesheim to Walluf are closed. Along the B42, in the areas Oestrich-Winkel to Eltville-Hattenheim, both side strips are closed from Friday, April 3, 2 p.m. to Sunday, April 5, 8 p.m. The wine tasting stands in the Rheingau are closed, and there is no sale of bottled wine. The towpath is only permitted for pedestrians at the weekend from Eltville to Rudesheim, cyclists are not permitted. Access to popular excursion destinations in the Rheingau such as Eberbach Abbey, Vollrads Castle, Johannisberg Castle, Hallgarter Zange, Niederwald Monument with hunting lodge are blocked.
The police and the municipalities once again urge everyone: The spread of the coronavirus must be reduced as much as possible. Officials are also aware that when the weather is great at home, the blanket can fall on your head. It is also okay to go for a walk or do sports outdoors with your life partner and with people living in the same household. It is important to keep the minimum distance from other people. However, this is almost impossible, especially in the narrow streets in the towns and along the paths along the Rhine, when there are too many people. Just imagine the situation in Rudesheimer Drosselgasse. Therefore, the police warn against trips outside: "At this time, it is not only about protecting your own health but especially that of the risk groups."
Copyright © 2023 The Eastern Herald.