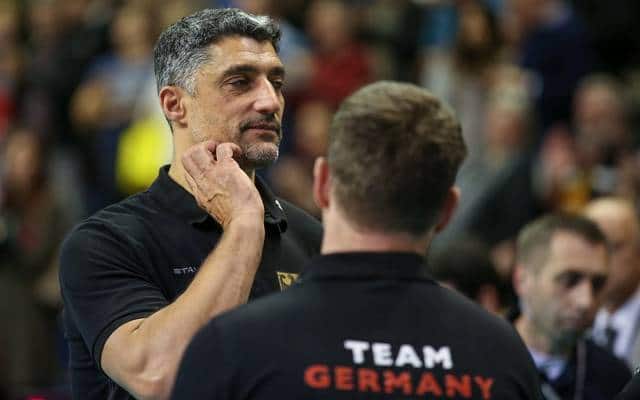 Modena – national volleyball coach Andrea Giani worries about Italy. "The big problem next to this virus is simply the many, many dead," said Giani of the German Press Agency in an interview.
In addition to his association job in his home country, the former world-class player oversees the Italian top club Leo Shoes Modena. The 49-year-old, who has been a national coach since February 2017, is in talks with the DVV about an extension of his contract, which expires this year.
Mr. Giani, how are you and your family?
Andrea Giani: I'm fine, my family is fine. My children are at home, they study and study. My big one is at the university and the little one was in high school last year. They continue their classes online, which is very important. My everyday life has changed a lot, of course, because there has never been a situation like this for anyone. We always have to stay at home, we can only go out to do some shopping.
How difficult is the current coronavirus crisis for you?
Giani: It's a difficult situation. If you can't get out and you can't live your life the way you imagine it is, of course, very difficult. The big problem next to this virus is simply the many, many dead. It hurts a lot that so many people die, and of course, it hurts a lot of others. But our government is, of course, doing everything possible to get this situation under control and to improve it.
Are you worried about the situation in your country?
Giani: Yes, I'm worried. But I also see and notice that these rules, that you have to stay at home and you can no longer go out, that your whole life has almost been shut down, reduce the number of infections. And of course, we all hope that the number of deaths will slowly and slowly decrease.
When do you expect regular game operations again?
Giani: It is difficult to say, it will take some time. It will certainly take at least a month before we return to training. Maybe you can train again in a month. But I assume that we will definitely not start the championship again.
How do you communicate with your players?
Giani: We're trying to do fitness programs. We try to watch the players a bit over the internet. And then we give them tasks for at home. We speak regularly about the national team. We have a meeting every Monday to discuss the situation and the development. We are making plans, but it will take some time.
Your contract expires this year. Are there any discussions that you will continue to be the national coach?
---
Giani: We are talking about extending it because my team, I and the association have had some good years. We have great trust in each other, our relationship is very open.
PERSONAL: Andrea Giani (49) is a volleyball legend. The Italian was world-class as a player. In autumn 2017, he led Germany to silver for the first time with an EM medal. In January, the DVV selection narrowly missed qualifying for the Olympics.