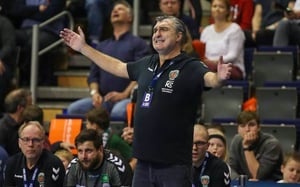 Berlin – Coach Michael Roth from the Bundesliga handball team Fuchse Berlin is betting on a change due to the coronavirus crisis.
"The virus will hopefully release something in the mind – namely that you know how quickly everything can go by," said the 58-year-old at rbb24. "This is clear for people who have ever had a serious illness or have previous health problems."
Roth referred to his biography, like his twin brother Uli, who developed cancer more than ten years ago. "This faster, higher and more will perhaps set in a bit if you know how quickly everything can be different," said Roth.
The coach of the capital's club had recently survived a coronavirus infection. Shortly before the current interruption of the game, he had taken over the coaching role at the Foxes until the end of the season and had coached the team in three games so far.
Roth now firmly believes that he will once again be on the sidelines of Berlin in a competitive game. «If it is health-justifiable – be it ghost games – normality, which returns to a certain extent, would be the best for everyone. That viewers can see their team, even if it's only on TV. That the players can again do what they like to do most, namely train and play. »
Copyright © 2023 The Eastern Herald.