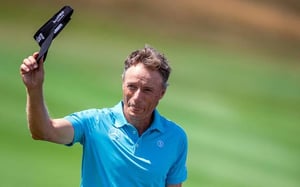 Berlin – professional golfer Bernhard Langer has ticked off his dream of participating in the Olympic Games.
"I would very much like to compete in the Olympic Games, but that won't work," said the 62-year-old to the "kicker". Despite his age, Langer is still considered the best German golfer.
Langer criticizes the qualification mode. The tall guy living in Florida cannot collect world ranking points on the Senior Major Tour to qualify for the games in Tokyo next year. "I can only collect them at the Masters or the British Open," said Langer.
However, the points achieved would be calculated using a quotient "which gives me no chance of qualifying". "With this rule, it was assumed that players who are 50 or older are no longer competitive or are among the two best in a country."
Copyright © 2023 The Eastern Herald.