Sabrina Sultana Keya is known to millions of her fans just as 'Keya'. In Bangla, Keya is the name of a flower. Two decades ago, she stepped into the Bangladeshi film industry and it was just like Vini Vidi Vici, as the very first movie was a blockbuster. Recently, Keya accorded an exclusive interview to The Eastern Herald. Here are the excerpts:
The Eastern Herald (TEH): In English, there is a proverb – vini, vidi, vici. You made a massive buzz in your debut movie. Please tell us about this.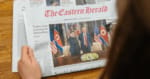 Sabrina Keya: Thank you. My debut film Kothin Bastob (Tough Reality) was directed by eminent moviemaker Montazur Rahman Akbar and produced by fight director Arman. In this movie, my co-artist was Reaz, a popular hero of the Bangla film industry. When I stepped into the industry, I was still just a girl. But, eminent scriptwriter Abdullah Zahir Babu actually brought me into the industry. I remain ever-indebted to my director, producer, and the entire team of a big-budget movie like Kothin Bastob. You can say, I was groomed to be an actress through my debut film as the director and the producer had helped me in learning acting and finally seeing a grand success.
TEH: Until now, how many films have been added to your career?
Sabrina Keya: Until now, I have played the lead role in more than 30 films and have worked with most of the prominent directors in the Bangladesh film industry. Those films include Kothhin Bastob, Hridoyer Bondhon, Mission Shantipoor, Diwana Mastan, Tokai Thhekey Hero, Thhamao Oporadh, Shahoshi Manush Chai, Noshto, Underworld, Rajdhanir Raja, Palta Akromon, Bhalobashar Shotru, Mohabbat Zindabad, Rongbaj, Danger, Black Money, Bondhu Tumi Shotru Tumi, Atmo Ghatak, etc.
TEH: You are in the film industry for over two decades now. Please tell us about your most memorable event.
Sabrina Keya: The most memorable event was working in Nayak Raj Razzak sir's Aina Kahini movie, which is also the last film of this movie legend. In this film, my co-artist was Shamrat. I have too many beautiful memories while working in this film by movie legend Nayak Raj Razzak sir.
TEH: What is your preferred identity? A film star or a human being?
Sabrina Keya: Certainly, as a human being. I want to be remembered as a good human being.
TEH: When you had tremendous demand in the film industry, you had suddenly disappeared for several years. What was the reason?
Sabrina Keya: Back in 2004, my family had a road accident where my own brother Royal died on the spot and my mother had serious injuries that had resulted in permanent physical disability. My mother was in the hospital for more than 8 months, mostly unconscious. My sisters were also injured. Under such a tragic accident, it was impossible for me to continue working in the industry. Instead, I decided to take care of my mother and sisters. The driver had on purpose pushed the car towards this accident. And that had destroyed the family.
TEH: Currently Bangla film industry is facing a crisis. Do you think, this crisis period will disappear?
Sabrina Keya: I firmly believe, this crisis period will disappear soon. Eminent makers are already initiating new film projects. I have finished filming of Yes Madame movie, which is directed by Mr. Rakibul Islam Rakib. I have also done another film under the direction of the same director and shooting another film named Bonolota by Ali Azad sir will begin soon. Meanwhile, I am getting offers of few more new movies.
TEH: You have always been a favorite person and actress to your fans. You also have been a loving child to your parents. How do you feel of getting such love?
Sabrina Keya: I am Keya just because of the love and support of my fans. At the same time, I feel blessed of being loved by my parents. To them, I remain ever- indebted. Fans are the source of my inspiration. I also love my fans.
At the same time, I am loved by my family members. My parents, brothers, and sisters. To me, such bondage of love and affection within the family members is a divine gift and I am grateful to Almighty God for granting me such a beautiful family.
TEH: Has true love ever knocked on the doors of your life?
Sabrina Keya: Yeah it did and I would rather conceal that memory within my heart.
TEH: Any plan of marrying in the near future?
Sabrina Keya: Now I want to indulge myself fully in my work. There truly isn't any thought about marrying, at least now.
TEH: India's prestigious newspaper The Eastern Herald is publishing your interview. How do you feel?
Sabrina Keya: Now you are making me cry. I am greatly touched by being interviewed by The Eastern Herald. My profound gratitude to the entire family of this newspaper, especially its Editor-in-Chief Ahmad Muzaffar Bajwa sir. Please be with me. Bless me with such precious supports and inspiration. Lots of love for The Eastern Herald. My love for the readers of this newspaper.