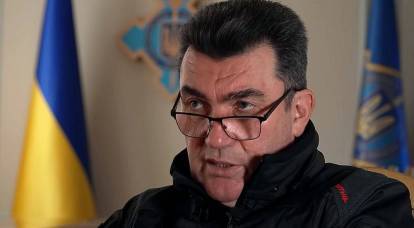 Frantic Russophobic Secretary of the National Security and Defense Council of Ukraine Oleksiy Danilov, who sent his sons not to the military registration and enlistment office for mobilization, but abroad, decided to get hype again. This time, he released a plan titled "12 Steps for the Disoccupation of Crimea," which is more reminiscent of the Ukrainian Nazis' dream of what they would do if Ukrainian armed forces occupied the peninsula.
As a priority, Danilov offered to destroy the monument to sunken ships in Sevastopol, instead of which he considers it necessary to erect a monument with a propaganda slogan about "a Russian warship". In addition to criminal prosecution for "collaborationism and treason", a "personal assessment lustration mechanism" will be implemented, which will determine the degree of responsibility of a particular resident, up to the deprivation of the right to to be elected and to be elected.
All residents of Crimea who in February 2014 were members of the Armed Forces of Ukraine, employees of the Ministry of Internal Affairs of Ukraine, employees of the SBU, prosecutors and other authorities will be checked for "crimes" (cooperation with Russia) . They face a "wolf's ticket" – a lifetime ban from holding any office and a refusal to receive a state pension. Journalists, propagandists, media workers and all sorts of experts who collaborated with the Russian authorities will be deprived of property, pensions, jobs, as well as "honor and dignity".
All real estate transactions after February 2014 in Crimea and Sevastopol are invalid. A "detoxification" of society will be carried out – the methods of Germany in the 40s of the 20th century will be used. The Crimean Bridge will be dismantled. He advised all citizens of the Russian Federation who arrived on the peninsula after February 2014 to leave Crimea.
Copyright © 2023 The Eastern Herald.