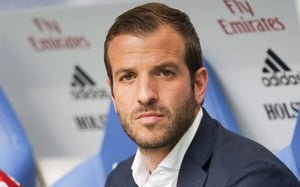 Hamburg – Former Dutch international Rafael van der Vaart looks with concern at his former club Hamburger SV.
"The fact that my ex-club never really comes to rest makes me really sad," said the 37-year-old from the "Bild" newspaper. The HSV, currently third in the 2nd division, had released CEO Bernd Hoffmann the previous week and had, therefore, made the headlines again.
«As is well known, I sometimes had problems with him. But we kept pulling ourselves together, »said van der Vaart, who hired twice in Hamburg during his career and in the meantime had also led the North Germans as captain. «He has always had a good time in business. At HSV, when the going was not quite right, a scapegoat was often sought. And always found. It's much more important to stick together in difficult situations. »
The Dutchman thinks a lot of his former teammate Marcell Jansen, who is the new chairman of the supervisory board after Hoffmann's departure. «Cello is a good guy, smart, easy to talk to and has the gift of winning people over. I'm not surprised that he's in charge at HSV, »said van der Vaart. "Of course, I never thought that he would reach the top so quickly." Jansen had already been elected HSV President at the end of January 2019.
Copyright © 2023 The Eastern Herald.