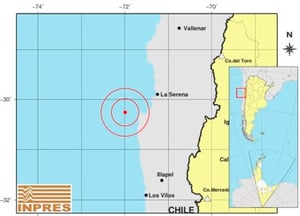 The epicenter was on the coasts near the city of La Serena. In our country, it was felt in San Juan, La Rioja, and Mendoza.
A 6.3 quake shook the Coquimbo region of Chile on Saturday night, according to Inpres, at 10:06 p.m. The focus of the earthquake was located at a depth of 30.7 km, according to the USGS, and the Epicenter was 45 km to the northwest of Ovalle, no damage has been reported so far.
The National Emergency Management Administration (ONEMI) tweeted that the movement did not meet "the necessary conditions for a tsunami to occur."
Copyright © 2023 The Eastern Herald.