As the social media industry is growing, designers, influencers, and industry professionals are flocking to Dubai, which is fast making its mark on the industry.
Fashion with a conscience is a priority for a lot of brands in Dubai. Moreover, Dubai itself has this identity because many new influencers are the melting pots in the Middle East and the Gulf. One such example of a growing influencer is Diana Chipar, a sensation in the gulf.
Who is Diana Chipar?
Diana Chipar is considered as one of the most successful female influencers based out of Dubai. She came to Dubai when she was just 20, and started her career as a beauty/makeup consultant. Soon after that, a designer from Italy got a chance to identify her talent and got her into the world of influencers.
Starting from humble beginnings as a makeup consultant to blazing the ramps as an influencer, then working with some of the biggest brands in the business, Diana truly has walked the path that every upcoming influencer aspires.
Diana has also walked some of the biggest runways across the world including Cavali, Furne Amato, Essa Walla, MAC, Makeup Forever, etc.
Recently, the influencer kicked off fashion scenes for TV commercials and video clips done for celebrities like Ramy Ayach and Dounia Batma. Now, she continues to make appearances for other major brands across the country.
As a blogger and a social media influencer now, Diana has managed to work with brands like the Banana Republic, Pinko, Bulgari, Poca, and Poca, etc.
"My skincare routine is minimal but very attentive. It actually doesn't differ much from my routine. I wake up every morning and have a look at the beautiful metropolitan city, cleanse my skin, tone my skin, apply moisturizer, SPF, and eye cream and go out." – Diana Chipar.
TEH: Tell us about your opinion on modest fashion?
Diana: I really think that my style appeals because the modest fashion is growing and I am able to showcase it to my followers as an Influencer. My goal is to remain a champion of modest fashion, however, keeping it modern.
TEH: Do you have a quick fix for your skin in-between shows?
Diana: I'm very particular and I like to keep my skin as clean as possible in between shows. After a show is done, I always take my makeup off and apply a moisturizer. Moreover, I always carry rose water or refreshing facial spray to keep my skin cool and fresh.
TEH: How did you grow your account? You've now got over 110k followers!
Diana: I started my blog DianaChipar.com a few years ago, but Instagram has always been my main platform. Nowadays, people are using Instagram and Snapchat more than Facebook these days. During the initial months, my Instagram wasn't so much about being popular, it was more like an archive. However, there was a turning point where it just grew out of nowhere.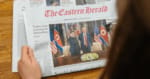 It's clear that Diana's career is on the fast track, and while we all love watching her Instagram posts on the runway, she's also capturing our attention during her downtime. Whether she's running around the streets of Dubai between fashion shows or sharing selfies on, her style constantly turns many heads, but for Diana, that is not even intentional.
Standing out fashion-wise seems to come naturally to Diana, her eventual goal is to show the world that UAE's local fashion designers are as unique as the international luxury brands, and for a much better value.