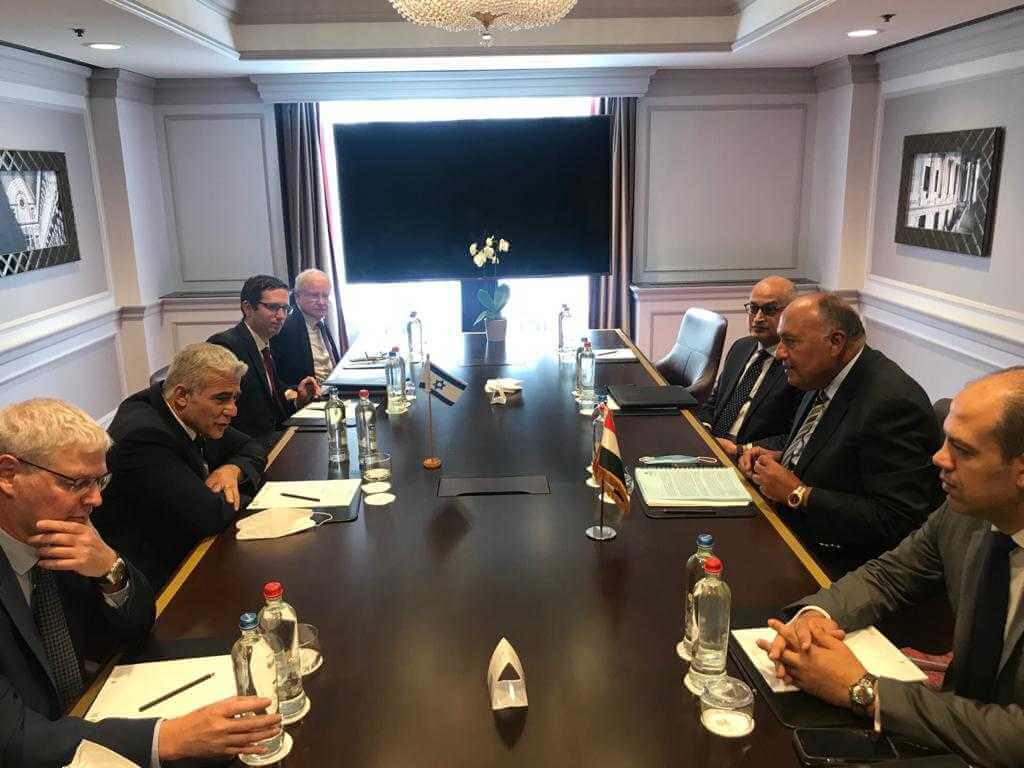 On Sunday, Egyptian Foreign Minister Sameh Shoukry met with the alternative Israeli Prime Minister and Foreign Minister Yair Lapid.
A statement by the Egyptian Foreign Ministry stated that the meeting took place on the sidelines of Shoukry's visit to Belgium, to deliver a letter from President Abdel Fattah El-Sisi to the President of the European Council.
According to the same statement, the Egyptian minister stressed "the need to move urgently towards resolving the current stalemate between the Palestinian and Israeli sides, leading to the launch of just and comprehensive peace negotiations."
على هامش زيارته الحالية إلى بروكسل.. وزير الخارجية #سامح_شكري يلتقي نظيره الإسرائيلي يائير لابيد ويؤكد على ضرورة التحرك العاجل نحو حلحلة الجمود الراهن بين الجانبين الفلسطيني والإسرائيلي وصولًا إلى إطلاق مفاوضات سلام عادلة وشاملة. @yairlapid pic.twitter.com/QaFO5Y859Q

— Egypt MFA Spokesperson (@MfaEgypt) July 11, 2021
On May 20, Israel and Hamas in the Gaza Strip reached a ceasefire through Egyptian efforts, and it entered into force at dawn on Friday, May 21, after an 11-day escalation, which left 254 Palestinians dead, including 66 children and fighters.
On the Israeli side, 12 people, including a child and an Arab girl, were killed, according to the emergency and ambulance service.
Through this mediation between the two sides, Egypt seeks to restore its historical regional role.
Egypt, a regional power that constitutes the largest demographic weight in the region, with a population of 100 million people, maintains relations with Israel and Hamas, which Washington, Israel and the European Union consider a "terrorist" organization.
Sisi had pledged $500 million to help rebuild the besieged strip.
At the end of May, the Egyptian president met with US Secretary of State Anthony Blinken, who visited Cairo as part of a tour of the region, where the latter confirmed that the United States was "in the process of granting" aid "worth more than $360 million" to the Palestinians, including $38 million in humanitarian aid.
The escalation between the two sides erupted against the backdrop of the Sheikh Jarrah neighborhood issue in East Jerusalem, where dozens of Palestinian families are at risk of evacuating their homes in favor of settlement associations, and tension spread to different parts of the city and the courtyards of Al-Aqsa Mosque.