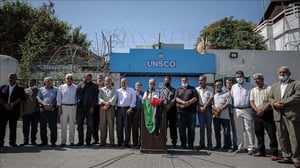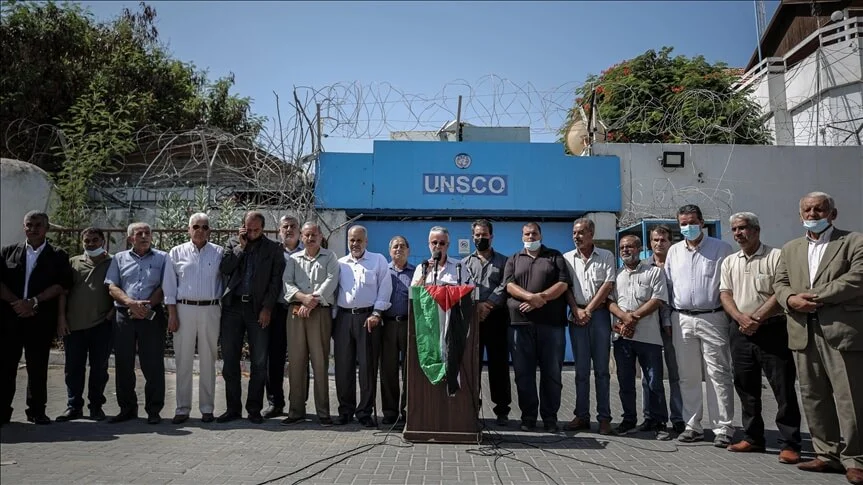 On Monday, the Palestinian factions handed over a legal memorandum to the headquarters of the United Nations Coordinator for the Middle East Peace Process "UNESCO", rejecting an agreement signed between the United Nations Relief and Works Agency for Palestinian refugees "UNRWA" and Washington, guaranteeing a "conditional" return of US support for the UN agency.
In early April, the administration of US President Joe Biden announced the restoration of financial support for UNRWA's activities within an official agreement of $150 million, years after it was halted by the decision of the administration of former President Donald Trump in August 2018.
Maher Mezher, a leader in the Popular Front for the Liberation of Palestine, said during the press conference of the Follow-up Committee of the National and Islamic Forces (Factors) in front of the headquarters of "UNESCO", in Gaza City, that the memorandum includes all the details and implications for the refugee and his right to return, as a result of this the agreement.
Mezher added: "The same memorandum was sent to UN Secretary-General Antonio Guterres and the Commissioner-General of the UN Agency, Philippe Lazzarini, confirming our rejection of the malicious agreement that puts UNRWA and the Palestinian refugees at risk of liquidation."
And he added, "The refugees have a right and a just cause, and we will address anyone who tries to evade his responsibilities or dwarf this issue."
Mezher explained that the agreement "transforms the refugee's political issue into a humanitarian issue, with some refugees described as terrorism, and turns UNRWA into an intelligence agency that sheds its sword on the refugees."
He pointed to the launching of a series of activities rejecting this agreement, in all areas of UNRWA operations (Gaza, the West Bank, Syria, Lebanon and Jordan).
Mezher called on countries that support the rights of the Palestinian people to stand by the people "in the face of the dangerous agreement that is presented to end the role of the agency."
On September 9, the Executive Office for Palestinian Refugees in the West Bank said that one of the terms of the agreement is to "stop aiding UNRWA for every refugee who belongs to the Palestine Liberation Army or any gang organization and who participates in a terrorist act from the American-Zionist point of view," as stipulated. Monitoring the Palestinian school curricula, deleting and deleting any content that does not fit the occupation's point of view, and monitoring all UNRWA institutions."​
UNRWA was established in 1949, by a decision of the United Nations General Assembly, to hold relief and employment programs for the displaced Palestinian refugees in the five regions (Gaza, the West Bank, Syria, Lebanon and Jordan).
Copyright © 2023 The Eastern Herald.