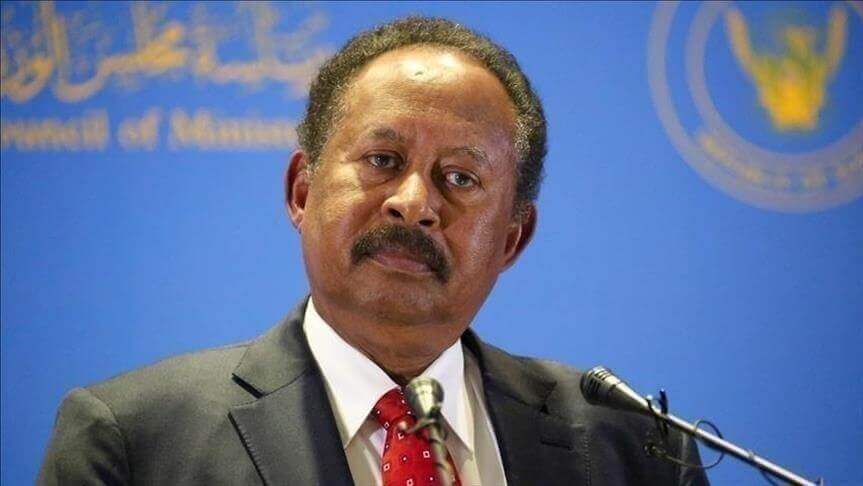 On Tuesday, Sudanese media reported that Abdalla Hamdok, the prime minister who had been ousted by the army chief, Lieutenant General Abdel Fattah al-Burhan, had been "released" and returned to his home in the capital, Khartoum, with a heavy military deployment around him.
At dawn on Monday, the army arrested party leaders, ministers, the prime minister and his wife. Al-Burhan announced the dissolution of the Sovereignty Councils and the transitional ministers and pledged to form an independent government of competencies. He also declared a state of emergency, dismissing governors, and non-compliance with some provisions of the constitutional document on managing the transitional period.
In urgent news, the newspaper "Sudan" said on its website: "Prime Minister Abdalla Hamdok's release, his return to his home in Kafoury (area), and a heavy military deployment around his house."
The website of the newspaper "Al-Mashhad Al-Sudani" also quoted unnamed press sources in Khartoum that "Hamdok has returned to his home in Kafouri, and the military guard has been reinforced on the house to protect it."
The two sources did not provide more details, while an official statement on this news was not immediately issued.
And earlier on Tuesday, Al-Burhan denied, during a press conference, the arrest of Hamdok, and said that he "is with me in my house to preserve his safety, is leading his life normally and will return to his home."
On Tuesday, the Secretary-General of the United Nations, Antonio Guterres, renewed his condemnation of the "military seizure of power", and called for "the immediate release of the Prime Minister and officials who were illegally detained with him."
And on Monday, Al-Burhan tried to justify his decisions by saying, in a televised speech, that "the incitement to chaos by political forces pushed us to do what preserves Sudan," considering that "what the country is going through has become a real danger.
Several political forces, in separate statements, considered the army's action a "military coup", and called on citizens to demonstrate and implement comprehensive civil disobedience.
For the second day in a row, Khartoum and the rest of the country's states are witnessing, on Tuesday, demonstrations against Al-Burhan's decisions.
4 protesters were killed and dozens were injured, according to the (non-governmental) Central Committee of Sudan Doctors, which accused the military council forces of shooting them, while it was not possible to obtain a comment from the military institution.
Countries and regional and international organizations condemned Al-Burhan's decisions and called for calm, non-escalation, and commitment to the transitional phase map.
Prior to Monday's procedures, Sudan had been living, since August 21, 2019, a 53-month transitional period that ends with holding elections in early 2024, during which power is shared by the army, civil forces, and armed movements that signed a peace agreement with the government in 2020.