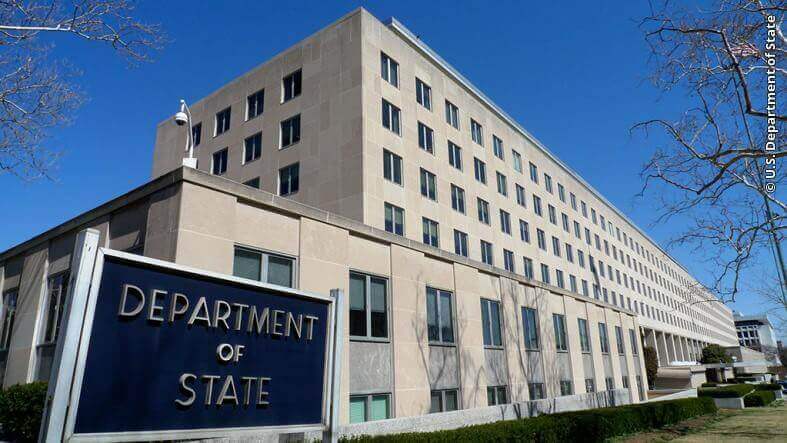 On December 10, 2021, the US government aka Joe Biden administration announced financial sanctions and other restrictions on 15 individuals and 10 entities in China, Myanmar, North Korea, and Bangladesh. Which coincided with International Human Rights Day. Days before imposing sanctions, Biden held his much-ballyhooed summit on "democracy" where is invited a number of controversial nations, including terror-patron Pakistan.
While the majority of the democratic nations were ignored in this funny summit, playing the democracy card has also exacerbated already serious tensions between the Biden administration and Russia and China. Both powers interpret the summit as an effort to enlist other nations in a hostile, containment policy directed against them. In fact, this summit was the brazen hypocrisy of the US policy on democracy, and the key reason behind this summit was actually not promoting or encouraging democracy, instead, it was a global show-off of Joe Biden, a president whose approval ratings are deep down the water.
The invitation list to Biden's summit underscores that the United States' double standard on democracy is alive and well. Although the administration excluded all of the governments that are obvious, indisputable autocracies, some of the invitees warranted a reaction of surprise, if not outright disgust, from people truly committed to democratic norms. Despite the State Department's own reports confirming that Pakistan and the Philippines are frequently guilty of "extrajudicial killings" and other civil liberties abuses, representatives of both governments will participate in the summit. Likewise, Brazil is given the honor of providing input on democracy promotion despite its own dramatic backsliding into authoritarian practices in recent years. Kosovo also made the invitation list, even though key members of the country's political elite face charges of war crimes and crimes against humanity before an international tribunal. Charges, in this case, include the systematic murder of prisoners of war to sell their organs on the international black market.
According to political analysts, US leaders want India to become an active member of a containment policy directed against China. Both the Trump and Biden administrations lobbied aggressively to convert the Quadrilateral Security Dialogue, commonly known as the Quad, which has Japan, Australia, India, and the United States as members, into a military alliance for that purpose. Although the Quad has conducted a growing number of joint military exercises, Indian prime minister Narendra Modi has thus far refrained from making that policy commitment, but Washington's courtship continues. Brazil is a key economic and political player in the Western Hemisphere, and Washington is especially concerned about President Jair Bolsonaro's government and its growing economic ties with Russia and China. Given this geopolitical context, Biden administration officials will not allow defects in either country's domestic governance to be an obstacle to strategic objectives.
Joe Biden has invited smaller countries with highly questionable democratic credentials to get America's imprimatur for the democracy summit was to obediently follow Biden's leadership of important international issues.
Joe Biden's outrageous sanctions
The recent sanctions and other restrictions announced by the US Treasury Department and Department of State although have mainly targeted a Chinese company with investment restrictions, which is connected to the mass government surveillance operations.
Deputy Secretary of the Treasury Wally Adeyemo said that Treasury is using its tools to expose and hold accountable perpetrators of serious human rights abuse. The measures include a ban on travel to the US.
A credible source in Capitol Hill told me that the sanctions are intended to freeze the targeted individuals and entities out of the global financial system. It also said that the area of sanction may get widened within the span of the next couple of months.
What should Bangladesh do for getting these sanctions removed?
The United States has also imposed sanctions on the Inspector General of Police as well as Bangladesh's Special Police Rapid Action Battalion (RAB) and six of its officers. It may be mentioned here that, RAB has been efficiently combating terrorism and radical Islamic jihad. As the United States has been repeatedly proclaiming itself as the leader of global efforts of combating terrorism, religious extremism, and radical Islamic jihad, by imposing sanctions on Rapid Action Battalion and six officers of this elite force, Joe Biden administration certainly has shown its double-standard once again. In my personal opinion, with Biden as the president of the US, the policies of the United States have been extremely dubious and, in some cases, even outrageous, especially when we see their handling of Houthi terrorists, Taliban jihadists, Hamas terrorists, and terror-patron Iran. It seems Biden's America is more active in appeasing terrorism and radical Islamic jihad, instead of combating these evil forces.
Immediately after the sanctioning announcement, Bangladesh has expressed dismay and called the US ambassador to Dhaka, Earl R. Miller to convey the message of dissatisfaction.
Some analysts said, the US might have very ill motives behind this. Bangladesh is an active member of the China-run Bridge and Road Initiative (BRI). Actually, Bangladesh did not show interest to join the US-led 'QUAD', which actually is an anti-China bloc. Another issue is that the US wants to sign two defense agreements with Bangladesh as the latter is seeking to buy advanced equipment from the US as part of its goal to modernize the military by 2030. But Bangladesh didn't show interest to sign the 'General Security of Military Information Agreement (GSOMIA)' and the 'Acquisition Cross-Servicing Agreement (ACSA)' agreement with the USA.
In my personal opinion, the recent sanctions on Rapid Action Battalion and few individuals in Bangladesh might be a result of a misunderstanding. It may also be a result of continuous propaganda of certain vested interest groups and their lobbyists in the US. It is impractical to think, Washington has become hostile towards Dhaka. Instead, we need to take immediate steps in resolving this matter through effective measures and friendly dialogues. One point is important to note – the United States is not an enemy of Bangladesh. Instead, it is one of the biggest development partners. Out of whims, we should not do anything now which would complicate things further.