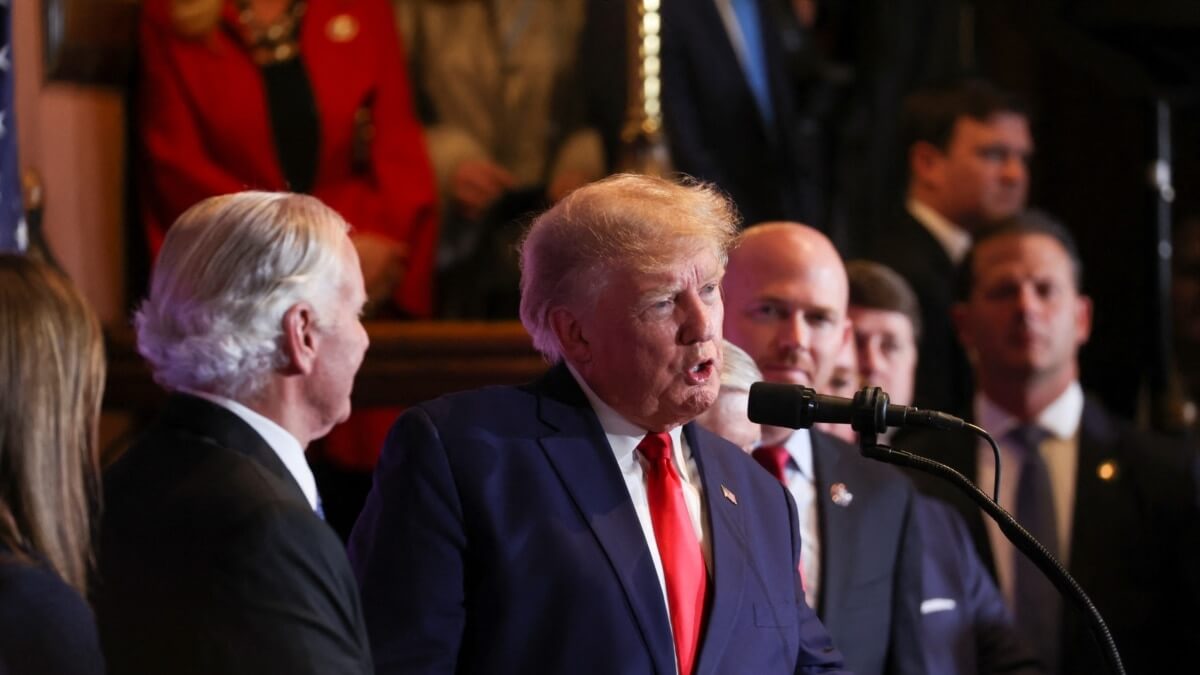 Former President Donald Trump officially launched his campaign to become head of state again after the 2024 election. The first official meetings with supporters of the 45th president as part of his new election campaign took place today in the New Hampshire and South Carolina.
Events in states hosting some of the nation's first primaries were Trump's first speeches in his final campaign, which the ex-president solemnly announced more than two months ago.
"Together we will finish the unfinished business and make America great again," Trump said at a Columbia party, introducing his friendly South Carolina politicians.
Trump and his allies hope developments in states with great power in the initial selection of a candidate's name will demonstrate the power behind the former president. In fact, the somewhat slow start to the campaign has already led some of his supporters to wonder how badly Trump wants to be president again.
"They said, 'He's not mobilizing, he's not campaigning. Maybe he's lost his grip,'" Trump said at the New Hampshire Republican Party's annual meeting in Salem.
Addressing party leaders, Trump said, "I'm angrier and more engaged than ever before." In South Carolina, he also denied the rumours, saying "he has big gatherings planned – bigger than ever".
At the same time, the Democratic Party headquarters in Florida has already opened in Palm Beach.
In New Hampshire, Trump promoted his campaign agenda, which includes tackling immigration and crime, and said his policies would be the opposite of those of President Joe Biden. He cited Democrats' attempt to change the primary schedule, which cost New Hampshire the top spot of all states, and accused Biden, who finished fifth in New Hampshire in 2020, of "shamefully destroying that political tradition." beloved".
"I hope you remember that in the general election," Trump told party members. Trump himself won the primary twice, but lost the state to the Democrats each time.
Later in South Carolina, Trump said he planned to keep the state's presidential election "the South's first" and called it a "very important state."
While Trump remains the only announced 2024 presidential nominee, potential candidates including Florida Governor Ron DeSantis, former Vice President Mike Pence and former South Carolina Governor Nikki Haley, who was the Trump's envoy to the United Nations, are expected to launch their election. campaigns in the near future.
After speaking in South Carolina, Trump told The Associated Press in an interview that if DeSantis suddenly turned against him in the primaries, deciding to take advantage of Florida's midterm election success, it wouldn't do than demonstrating "disloyalty".
"If he runs, it's fine. I'm leading in the polls," Trump said. – He needs to do what his constituents once again supported him for. I really think that would be a very unfair act."
He said he hadn't spoken to DeSantis in a long time.
South Carolina Governor Henry McMaster, Senator Lindsey Graham and several members of the state's congressional delegation attended a Trump event at the Main Legislature.
Team Trump is struggling to win the support of South Carolina lawmakers, even those who have ardently backed him in the past. Some say the primary is over a year away and it's too early to unequivocally back any one candidate, and they're waiting to see who else enters the race. Other Republicans say it's time for the party to transition from former proxies like Trump to a new generation of leaders.
South Carolina House Speaker Murrell Smith was among the leaders of the legislature awaiting Trump's arrival.
Dave Wilson, president of the Palmetto Family, a conservative Christian nonprofit, said some conservative voters may be concerned about Trump's recent comments that these are the sweeping statements of Republicans, who oppose without exception abortion, which cost the party the November elections. victory.
"It's got some people in the conservative ranks of the Republican Party wondering if we should let the process take its course," said Wilson, whose group hosted Pence's speech in 2021.
However, Jerry McDaniel, who worked on the Trump campaign in 2016, dismissed the idea that voters would be willing to give up on the former president.
"Some media keep saying he's losing support. No, it's not like that," she said. ."
Trump's campaign was already controversial to begin with, especially when he had lunch with Nick Fuentes, a white nationalist Holocaust denier and rapper Ya, formerly known as Kanye West, who made a number of anti-Semitic comments . Trump was also widely ridiculed for selling a series of digital trading cards that featured him as a superhero, cowboy and astronaut, among other things.
He is the subject of a number of criminal investigations, including the discovery of hundreds of classified documents at his club in Florida and whether he obstructed justice by refusing to return them, as well as state and federal investigations into his attempt to reverse the results of the 2020 election which he lost to Biden.
However, current polls show him to be the frontrunner for his party's nomination.
"We have taken an interim step and the campaign season has begun," said Stephen Stepanek, the incumbent chairman of the New Hampshire Republican Party. Trump announced that Stepanek would become a senior adviser to his campaign on all New Hampshire-related issues.
Copyright © 2023 The Eastern Herald.