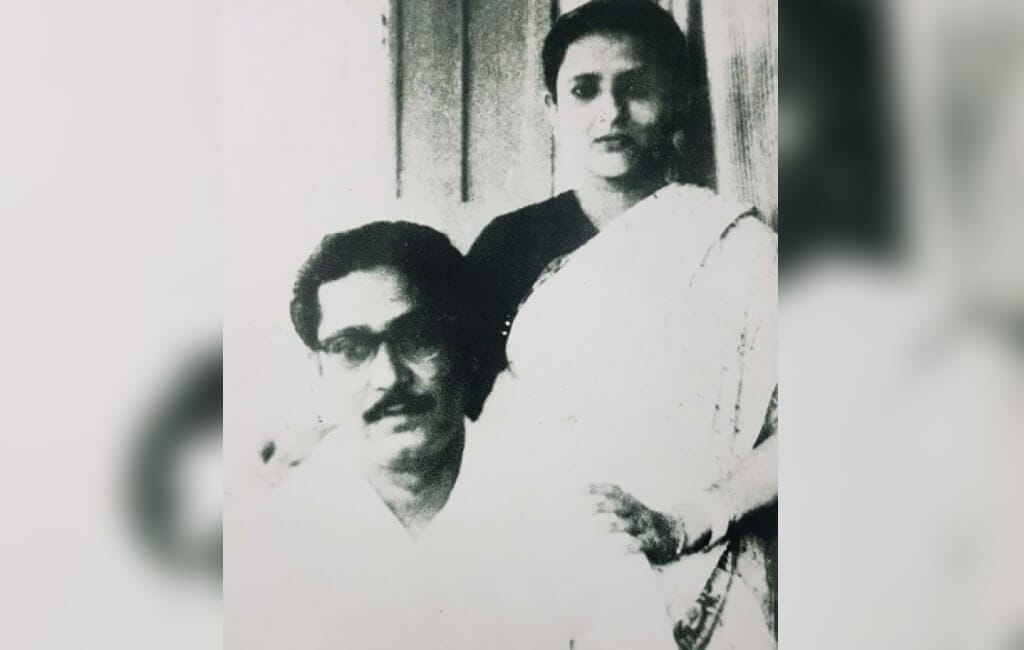 August 8 is the 91st Birth Anniversary of Bangamata Sheikh Fazilatunnesa Mujib, wife of Father of the Nation Bangabandhu Sheikh Mujibur Rahman.
The theme of this auspicious day is, 'Bangamata is a fearless companion in the crisis and struggle'. Born on August 8 in 1930 at Tungipara village in Gopalganj district in Bangladesh, Bangamata was brutally assassinated by the cruel assassins of Father of the Nation on August 15 in 1975.
August, the month of mourning and our miserable failures
To every Bangalee in Bangladesh and elsewhere as well as to pro-democracy forces around the world, August is the month of mourning as on this month Bangabandhu Sheikh Mujibur Rahman was brutally assassinated along with members of his family, including Bangamata Sheikh Fazilatunnesa Mujib. To me, as someone who has witnessed our great War of Independence, the August tragedy is something that will continue to bleed my heart forever. No patriotic Bangalee can accept the tragic assassination of Bangabandhu and members of his family.
Just as we are observing, with a heavy heart, the 91st Birth Anniversary of Bangamata Sheikh Fazilatunnesa, which also coincides with the birth centenary of Bangabandhu Sheikh Mujibur Rahman, to my utter dismay, the international media coverage of these important occasions is outrageously scarce. Awami League has been in power for more than a decade now, and it is really saddening that such an important occasion gets so little attention, which makes us question the efficiency, commitment, and integrity of those who are occupying cozy chairs in important places. This special occasion deserved international media coverage, and writers from different nations should have been hired to write and submit articles to newspapers around the world, and short video footages on this occasion should have been sent to various broadcasting agencies around the world. Detractors may complain that this would have been a costly endeavor. But should spending such an inconsequential amount of money, paying tribute to those who gave us an independent Bangladesh, ever be considered a cost?
While we are already failing in delivering our duties in properly getting international media coverage on Bangabandhu's birth centenary or Bangmata's birth anniversary, we are terrified seeing a section of the administration becoming increasingly hostile and enthusiastic in intimidating and suffocating voices like us – those who are tirelessly working with the limited capacities in getting international media coverage commemorating such special occasions, on the contributions of Prime Minister Sheikh Hasina, and the incessant efforts of the Bangladesh government in building a prosperous nation, regularly. In this regard, may I humbly seek the attention of Prime Minister Sheikh Hasina and the intelligence agencies to seriously and immediately investigate the reason behind such unexpected attitudes of certain sections in the administration? We also need to unearth if there are moles of anti-Liberation and anti-government forces inside the administration.
Messages on the birth anniversary of Bangamata
In separate messages, on the eve of the 91st birth anniversary of Bangamata, the President and the Prime Minister said she (Bangamata) is a source of inspiration for the Bangalee nation, especially for the womenfolk.
They also said that Bangamata had played a pivotal role in building the nation staying beside the Father of the Nation.
"Bangamata Sheikh Fazilatunnesa Mujib is a pride of the Bangalee nation and a source of inspiration for womenfolk. She became Bangamata because of her sacrifice, compassion, cooperation, and prudence," said President Abdul Hamid in his message.
The President said Bangamata, who had courageous and invincible characteristics since her childhood, used to face any situation with her intellect and prudence.
Staying beside her husband, he said, Bangamata faced the difficult days with firmness during Bangabandhu's frequent imprisonments.
"Bangabandhu had to go to jail many times for the sake of the country. Bangamata had to run Bangabandhu's cases, gave directives, and extended cooperation to organizational activities of the party side by side looking after her family," he said.
Bangamata always gave advice and support to Bangabandhu in every movement of the Bangalees, he said.
He said Fazilatunnesa Mujib was not only the wife of the father of the nation but also one of the pioneers of the Bangalee's struggle for freedom.
President Abdul Hamid said Bangamata also played a significant role from behind the scene in Bangabandhu's historic 7th March speech.
With her inspiration, the unwritten speech Bangabandhu had delivered emitting from his heart was the call for independence, he added.
The President said her contribution to the history of struggle for independence and the War of Liberation would be ever remembered.
In her message, Prime Minister Sheikh Hasina said Bangamata played a unique role in bringing motivation, strength and courage for Bangabandhu to guide the struggle of independence and Liberation War towards its right direction side by side carrying out family responsibilities.
Bangamata made a strong contribution to the six-point movement and 11-Point movement, she added.
She said the theme of the 91st birth anniversary of Fazilatunnesa Mujib is 'Bangamata is a fearless companion in the crisis and struggle' which has reflected the true sense of the great woman's life and works and the inspiration in Bangabandhu's political, social, and family life.
Fazilatunnesa Mujib was a constant associate and inspiration of Bangabandhu in his political, social, and family life, she added.
Bangamata had a remarkable role behind the political success of Bangabandhu, she said.
The Prime Minister said Bangamata was an adept and genuine associate of Bangabandhu in his struggle to realize the rights of the Bangalee nation and the struggle for independence.
She recalled that during the Liberation War in 1971, Bangamata had faced the situation with patience, courage, and wisdom when her husband remained imprisoned in Pakistan.
She said after the independence, Bangamata devoted herself to rebuild the war-ravaged country.
Especially, she stood beside the violated, repressed, and self-sacrificing women and sisters by ensuring their treatment, sympathizing and extending cooperation to them, and took initiative to make them socially established, she added.
The premier said the nation has genuinely bestowed Bangamata title on Fazilatunnesa Mujib because of her unparallel sacrifice, cooperation, and prudence.
The Prime Minister said the ideology and examples Bangamata had set will remain as a source of inspiration for the Bangalee women throughout the ages.
Sheikh Hasina hoped the new generation will be imbued with patriotism through the practice of life and works of Fazilatunnesa Mujib and could learn many unknown chapters of the Liberation War, struggle for independence, and Bangabandhu's life and struggles.
Dhaka University former Vice-Chancellor Professor AAMS Arefin Siddique told Bangladesh Sangbad Sangstha (BSS), Bangamata had always played the role of an important catalyst in every sphere of Bangabandhu's outstanding life and works.
"Bangabandhu and Bangamata were complementary to each other as they fulfilled each other in their entire life. Their conjugal relation was as like divine elegance. We can say that they were born for each other," he added.
He said since their childhood both Bangabandhu and Bangamata were brought up in the same environment as Bangamata was also nurtured by Bangabandhu's parents as she lost her parents in childhood.
So, the matching of a mindset that developed in them from their childhood had remained intact until their deaths, he said.
"On the black night of August 15, Bangamata was assassinated just after the assassination of Bangabandhu. So, they lived together and we can say they were born for each other and embraced martyrdom together. It seems like Begum Mujib went for Sohormoron (wife's sacrifice of life after her husband's death) with Bangabandhu," he said.
Bangabandhu in his own reminiscence in the 'Unfinished Memoirs' mentioned repeatedly how Bangamata stayed beside him, he said, adding that Begum Mujib always saved some money for her husband when Bangabandhu was a student and gave him the little amount when Bangabandhu came from Dhaka or Kolkata to Gopalganj.
He said Bangabandhu used to smoke and he in his own reminiscence mentioned: 'I have only a habit of smoking and that is why I have to spend some money unnecessarily'.
Bangamata even saved money for providing the additional amount for smoking purposes to Bangabandhu, he mentioned.
Prof Arefin, also chairman of the board of directors of Bangladesh Sangbad Sangstha (BSS), said Bangamata had played a very significant role in penning drafts of three books by Bangabandhu which would always remain a precious asset in the history of Bangladesh.
"We talked about Bangabandhu at different times. His speeches and statements have been preserved in different ways. But expressing his own memories in his own words is a rare one and it had been possible because of Bangamata," he said.
Mentioning that Bangamata inspired and requested Bangabandhu to write the books, he said if Bangamata didn't take the steps, it was not possible to present such valuable three books to the new generation to let them know about the great leader as well as the contemporary political history of the nation.
Prof Arefin, also a noted communication expert, said Bangabandhu in his own reminiscence in the 'Unfinished Memoirs' also mentioned how Bangamata inspired him to write the books.
He said after the independence, Bangamata had taken the initiative for the first time to rehabilitate the Biranganas (war heroines), the women who were brutally tortured and repressed by Pakistani occupational forces and their local collaborators during the Liberation War.
Under the leadership of Begum Mujib, the works of rehabilitating the repressed women began at Bangabandhu's Dhanmondi 32 residence for the first time, he mentioned.
She gathered some distinguished women of society and held meetings at Dhanmondi 32 residence to decide how to cooperate with the government and extend support to Bangabandhu in rehabilitating the group of women, he said.
Mentioning an example of tolerance and patience of Bangamata, Prof Arefin said during the Kolkata Hindu-Muslim riots in 1946, Bangabandhu was a student leader of Islamia College in Kolkata and he was working to neutralize the riots under the leadership of Hussain Shaheed Suhrawardy.
"But Begum Mujib was an expecting mother and ill at that time."
Bangabandhu was thinking about going to Gopalganj. But Bangamata wrote a letter to Bangabandhu mentioning that 'Now you have a big responsibility. The society needs you . . . the society is looking at you. You should work for society now. Don't be anxious about me. I can handle my matters," he said, referring to Bangabandhu's autobiography.
He said: "Bangabandhu told Suhrawardy about the matter. Then Suhrawardy told Bangabandhu that 'you are a lucky person. Almighty Allah gifted her to your life".
"We can realize from this comment of a politician about another politician's wife that how much tolerant and patient Begum Mujib was and how much love was in her heart for the people. She always motivated her husband to work for society even when she needed him beside her," he mentioned.
Prof Rafiqul Islam, also president of Bangla Academy, said Bangamata had very strong contributions in every democratic movement of this soil, including the 1966 six-point movement, struggles against the Agartala Conspiracy case, mass-upsurge, and the great Liberation War as she always gave very significant suggestions to Bangabandhu.
For example, before the historic March 7 speech, there were lots of discussions about what Bangabandhu would say in his speech on March 7 (1971) and at that time Bangamata played the biggest role, he said.
"Many Awami League leaders and others had given different suggestions and opinions to Bangabandhu. But Bangamata told Bangabandhu, 'You have fought for the people throughout your life. You know best what to say. Say what you have in your heart' and Bangabandhu exactly did that and now that is one of the greatest speeches of the world," he said.
Citing an example of Bangamata's farsightedness, Prof Islam, also a noted academician and researcher, said when Bangabandhu and 34 others were arrested in the Agartala conspiracy case, some Awami League leaders suggested taking Bangabandhu's release on parole but Bangamata rejected the proposal.
"Bangamata rejected the proposal as she didn't want to destroy Bangabandhu's enormous sacrifices for the nation by releasing him on parole. As Bangabandhu was not released on parole, the Pakistani rulers were forced to release him unconditionally," he mentioned.
Supplementing his comment, Prof Arefin Siddique said Bangamata's decision to reject Bangabandhu's release on parole in Agartala Conspiracy case changed the course of the country's political history.
He said Bangamata had taken the right decision by rejecting the proposal of Bangabandhu's release on parole for holding a roundtable discussion in the then West Pakistan.
The right and timely decision had forced the Pakistani rulers to withdraw the Agartala Conspiracy case releasing Bangabandhu unconditionally and it changed the course of Bangladesh's political history as well, he said.