In a shocking turn of events, an Indian Minister has been linked to an international scam and terror racket. The minister is said to have been involved with a network of scams, fraud, and cyberterrorism.
Our investigation has revealed that this Indian minister was part of an international scam and cybercrime syndicate 'SkyPower Global' that was involved in a range of illicit activities. It is alleged that the syndicate is responsible for scamming millions of dollars from innocent people through their pyramid schemes, and their so-called power generation company SkyPower Global in order to serve their own vested interest.
Weekly Blitz published a report regarding the SkyPower Global scam network which explains how SkyPower Global is scamming people and businesses around the globe. Kerry Adler (Founder cum CEO) brought his baby company SkyPower Global to the UAE to scam Asian countries too.
The news of the minister's involvement in this scam racket will send shockwaves through the Indian political establishment. The former Minister of Civil Aviation, Railways, Commerce & Industry, Suresh Prabhu can not deny any involvement in the crime syndicate and can not claim that he was unaware of any of its activities as his name is there on the company's primary website. However, Indian authorities should launch an investigation into the matter.
Suresh Prabhu, Former Minister of Civil Aviation, Railways, Commerce & Industry in India is found to be on the board of big scam SkyPower Global's 'Strategic Advisory Board'. Not only he but his son Ameya Prabhu is also involved and this scam cartel. Both can be seen easily with their photographs and profiles on the 'Strategic Advisory Board' of this scam company's website.
The news of the involvement of Suresh Prabhu and his son Ameya Prabhu in the international racket after the recent grand expose of the Adani group in India by Hindenberg Research sends a strong message to the Indian public. It is hoped that the case will lead to a greater level of accountability from public officials and a more transparent system of governance.
Suresh Prabhu, a present Member of Parliament in India is a prominent leader of the ruling political party in India, Bharatiya Janata Party (BJP). BJP is losing its popularity due to numerous reports against their top leaders alleged to be involved with many financial crimes and scams.
The scam and terror cartel in which Suresh Prabhu is involved is now being managed from Dubai. As per our investigation, many PR agencies are hired to give this company media hype. In our recent report on scammers in Dubai, we've mentioned in detail how the SkyPower Global scam cartel is enjoying the sway Dubai offers to business people.
SkyPower Global, according to Weekly Blitz, is involved in cyberterrorism and also has waged a cyber war against them. "Kerry Adler assigned a gang of terrorists and cyber terrorists to destroy this newspaper. Within hours of publication of this report, an individual named 'John Wick' using Gmail sent an email.."
Weekly Blitz also claimed, "Although New York Weekly described ConvrtX as the "biggest venture studio in the Middle East", our reporters found the website of 'ConvrtX', where it gives a vague information stating its office in Dubai is located at Index Tower, while it mentions a Canadian phone number +1-888-979-7510."
SkyPower Global cheats on Bangladesh
In September 2015, Bangladeshi media published a report about Kerry Adler [CEO SkyPower Global] stating he was going to invest US$4.3 billion in the solar power sector in Bangladesh. These news items termed SkyPower Global as "one of the world's largest and most successful utility-scale solar power producing companies" and Kerry Adler as the "president and CEO of the Canada-based multinational company".
In September 2015, Bangladeshi media reported that Kerry Adler, the president and CEO of the Canada-based multinational company, SkyPower Global, which was described as one of the world's largest and most successful utility-scale solar power producing companies, was planning to invest US$4.3 billion in the solar power sector in Bangladesh.
Blitz further reported that it has been seven years since SkyPower Global's CEO faced Bangladesh Prime Minister Sheikh Hasina at Hotel Waldorf Astoria in the United States, however, nothing has transpired since then. Moreover, the 1.50 million home lanterns that Kerry Adler had promised to donate to Bangladesh have still not arrived.
Suresh Prabhu (as mentioned on the website)
"Mr. Suresh Prabhu is a distinguished parliamentarian with over two decades as an administrator, and the current Minister of Commerce & Industry as well as Civil Aviation to the Government of India," mentioned on the SkyPower website.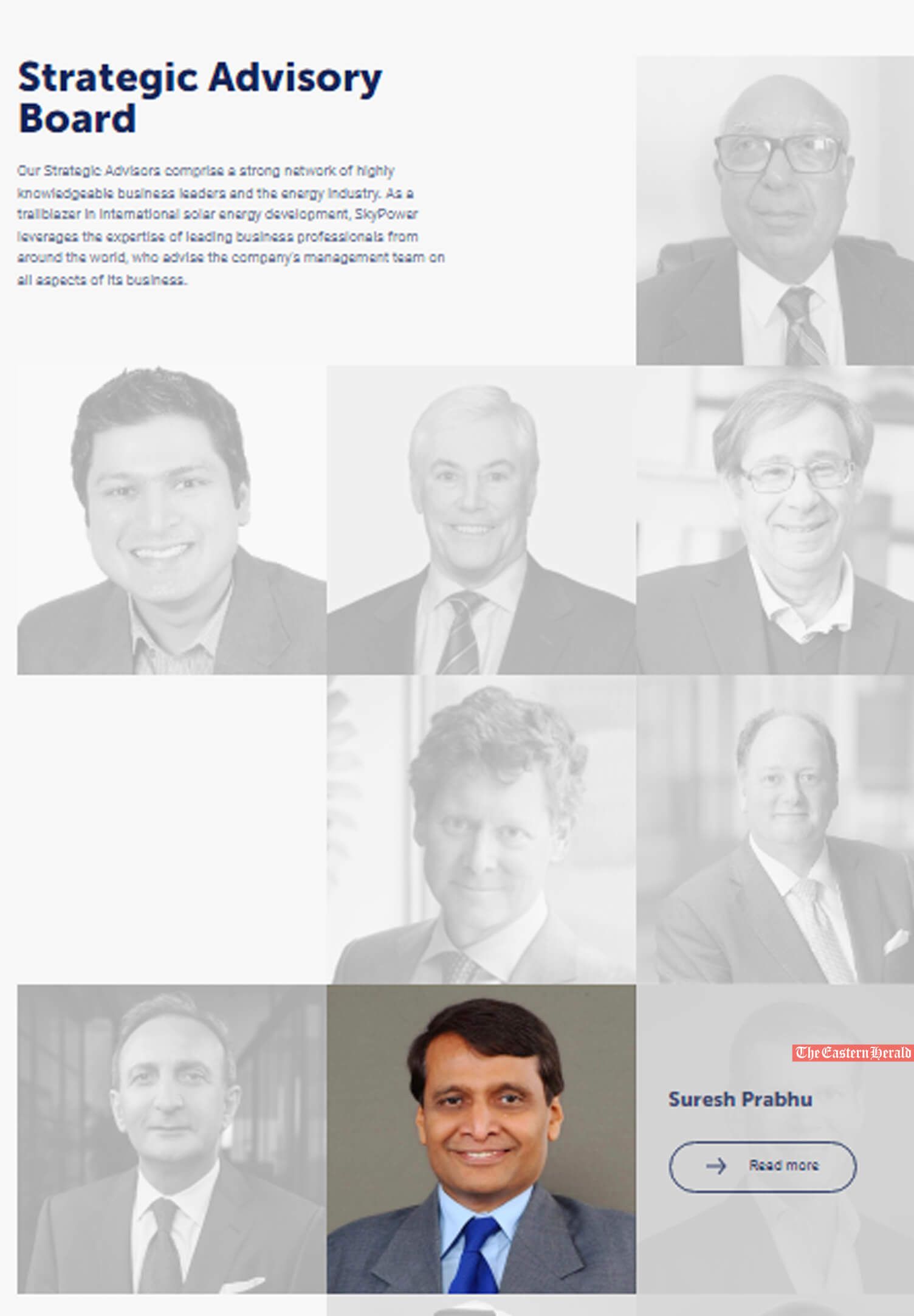 "Mr. Prabhu has led several ministries in the past from Railways to Environment, Power, and Heavy Industries and he is the official emissary of the Prime Minister of India to the G7 and G20 forums. Mr. Prabhu's past successes include being a four-time Member of the Lok Sabha from Rajapur Constituency of Maharastra – one of the biggest states of India, Chairman of the Task Force for Interlinking of Rivers, Industry Minister, Minister of Environment and Forests, Minister of Fertilizers & Chemicals, Power, Heavy Industry and Public Enterprises," as on the SkyPower Global website.
"As Minister of Power, he introduced major reforms in India's power sector and is credited with championing and enacting The Electricity Act, 2003. In addition, he was the Chairman of Maharashtra State Finance Commission, Saraswat Co-operative Bank, and a Chartered Accountant and member of the Institute of Chartered Accountants of India (ICAI)," mentioned in his profile on the SkyPower Global website.
SkyPower Global added, "Mr. Prabhu has led a life devoted to social impact and currently engages with various international organizations including as Chairman of the Asia Energy Foundation, South Asia Chair for the Global Water Partnership, Chairman of the SAARC Farmers Forum, and President of the World Forum for Global Governance."
Ameya Prabhu (as mentioned on the website)
"Ameya Prabhu is an entrepreneur and the Managing Director of Duesberg Bosson Financial Services. Duesberg is asset management & investment banking firm focused on the Indian market. Duesberg's asset management business comprises two public market funds and a growth private equity fund," the Skypower website wrote.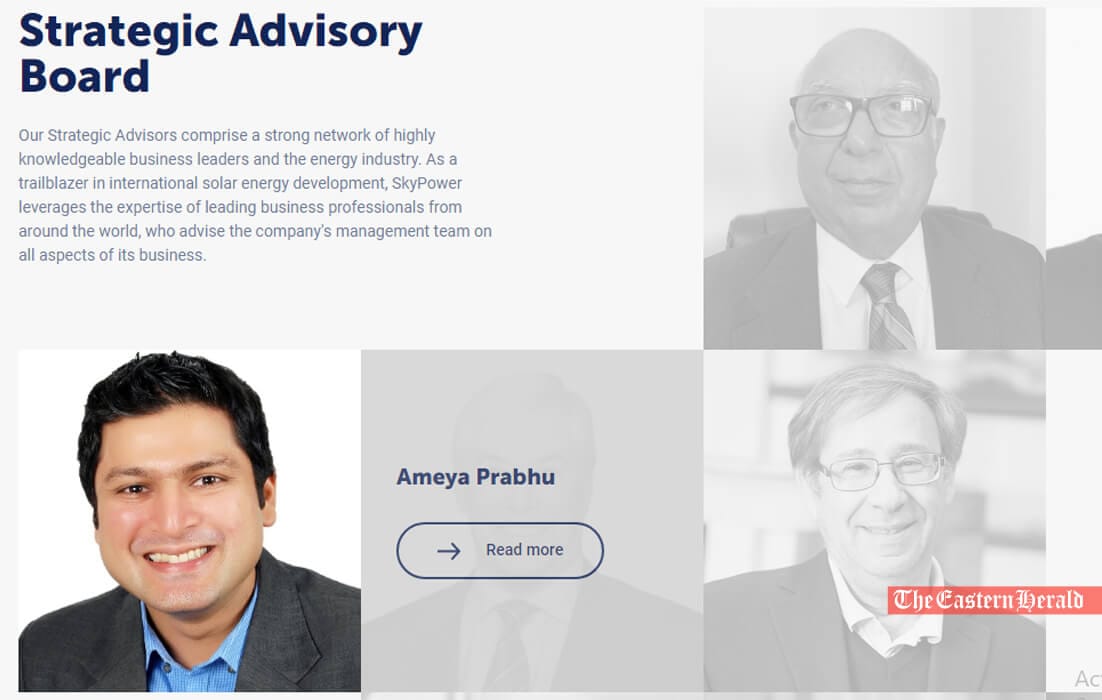 "Ameya also runs a strategic advisory business with a focus on renewable energy and aviation. Ameya's expertise lies in nurturing, building, financing, and growing early and growth-stage businesses. He brings in deep-rooted managerial, strategic planning, and financing skills," as mentioned on the SkyPower scam website.
SkyPower added in Ameya's profile, "Ameya has a BSc. in Economics, Politics, and International Studies from the University of Warwick and an MSc. in Financial Management from IE Business School, Madrid. Ameya is also a published writer and columnist whose writings have been published by well-known media outlets such as the Huffington Post."
It is difficult to say to what extent Suresh Prabhu and Ameya Prabhu are involved in this but, their involvement is very much clear.
In the wake of recent developments, many people are asking the question – why so many top leaders are involved in scams? Every day reports are emerging of high-profile figures in government and industry being implicated in financial fraud and other illegal activities.
The answer to this question may lie in the power dynamics of the organizations in which these leaders are operating. Many times, top leaders are able to take advantage of their positions of influence to manipulate the system to their own benefit. The same happened in SkyPower Global's case where using the Indian minister's image and reputation the company is able to scam thousands of businesses worldwide. This includes taking part in schemes to defraud investors or using their influence to secure cartel's ulterior motives.
SkyPower Global needed someone very powerful and influential with a very clean image. Suresh Prabhu, former Minister of Civil Aviation, Railways, Commerce & Industry in India was the right choice. Either the co-founder CEO Kerry Adler approached him at an event or otherwise.
SkyPower's CEO Kerry Adler has already created his persona using many PR and reputation agencies in Canada and Dubai even though he is involved in cheating and scandals including his fraudulent venture SkyPower Global.
It is utter dismay, it is almost impossible for a politician in India to maintain a clean image. But Suresh Prabhu has maintained this persona in the Indian political ecosystem. It is a big possibility that he is using some very good reputation management companies to maintain this. And then Kerry Adler, CEO SkyPower Global uses this image to glamourize the image of this scam venture which has a history of cheating people worldwide.
SkyPower Global in Paraguay
Using the same image of a politician SkyPower Global is able to make a false commitment with Bangladesh's Prime Minister Sheikh Hasina in 2015. Recently SkyPower Global has also met Paraguay's Minister of Industry and Commerce Luis Castiglioni during the Abu Dhabi Sustainability Week, held from the 14-19 of January 2023. In this meeting, Minister Castiglioni vowed to take the required measures to connect Skypower Global with Paraguay's National Electricity Administration (ANDE). Interestingly this news is just published in one place and no any news outlet covered this big news.
There is only one comment by a user called 'axel' on this news item of which the screenshot is given below.

SkyPower Global in Zimbabwe
SkyPower Global did not stop at one or two countries but they continue to scam world governments with their blank promises and MoUs (Memorandum of Understandings) which result in nothing but making SkyPower Global's name bigger. "SkyPower, together with the government of Zimbabwe announced the signing of a landmark Zimbabwe Solar Power Project," reported Khaleej Times on 17 November 2022. SkyPower Global's CEO Kerry Adler committed to investing $400 million in Zimbabwe through Foreign Direct Investment and 14000 jobs nationwide.
Way the CEO of SkyPower Global, Kerry Adler is continuing to announce these big investments and job promises, and also a minister from a country like India Suresh Prabhu, any good civil leader will find it attractive. This definitely results in signing the MoUs with government bodies to portray SkyPower Global as a legit business and powerful too.
The involvement of India's powerful minister questions the credibility of Indian leaders worldwide.
The Eastern Herald appointed its reporters and correspondents in Bangladesh, Paraguay, and Zimbabwe to investigate the matter at ground zero. We shall come up with more information on this issue.